Court bouillon translates roughly as short boil, and refers to a flavored liquid that is used for poaching things like fish, eggs, and sometimes even chicken. It is sometimes called a broth, but it is very light in flavor for broth, and doesn't require the significant cooking time of vegetable or meat broths. Instead, court bouillon takes about thirty minutes to prepare prior to use in recipes.
Most types of court bouillon use a little bit of lemon juice, water, fresh herbs, and the occasional carrots, onions, and/or celery to give the poaching broth a light flavor. This flavor helps flavor meat, fish or eggs as they poach, but is not overbearing. All ingredients are usually just added to the liquid and simmered on the stove for half an hour. Sometimes recipes recommend sautéing any vegetables first in a bit of light oil.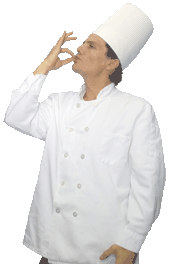 When you're ready to use court bouillon to poach, you typically strain it first, since this will remove leaves of herbs and any vegetables. These tend to be overcooked while making the light broth, so they usually aren't worth consumption. Alternately, you can simply poach meats, fish or eggs in unstrained court bouillon. It's a little trickier to do this when you are poaching eggs, since they will tend to pick up some herbs from the broth. If you want very clean white eggs, strain the bouillon first.
You'll find a number of fish recipes that recommend poaching the fish in court bouillon but if you don't have time to make it, you can use vegetable or fish stock instead. Just remember that most stock tends to be saltier than court bouillon. Look for low salt stocks or broths.
Bouillon cubes that you can purchase in stores tend not to substitute well for the freshly prepared court style. They are very salty and often have quite a few preservatives in them, with many of them containing MSG. Such cubes may overwhelm delicate types of fish, and tend to overwhelm the fresh and natural taste of poached eggs.
In addition to using court bouillon for poaching, you can also cook rice, potatoes or couscous in the broth. These will add extra flavor to these rather plain tasting dishes. Because the flavor is light, it can easily be combined with other sauces or gravies without overwhelming the tastebuds.
AS FEATURED ON:
AS FEATURED ON:








Chef