A cranberry jus is a type of sauce that uses cranberries and some type of stock or pan drippings for flavor. Unlike a sweet cranberry sauce, a cranberry jus is mostly used as a flavoring for savory dishes and meats. The sauce generally has a tart taste and can have a very complex flavor, depending on the spices added. The jus can be used as a topping for a dish or reduced until very thick and used to garnish a plate in a puddle or in a thin bead around the edge. There are many recipes for cranberry jus, some using fresh cranberries and others using canned, dried or frozen ones instead.
In traditional French cuisine, an au jus is a type of sauce made from the drippings of something that has been cooked, most often meat or poultry. A classical au jus is just a reduced version of the liquid from the main dish, sometimes thickened with a roux or with spices added. Most cranberry jus recipes follow a more American definition of the term, which simply means a sauce.
The basic components of a cranberry jus are cranberries in some form, sugar and a liquid. Spices do not have to be added to the jus, and neither do the pan drippings from the main course. The liquid that is added to the jus can be chicken or vegetable stock, orange juice, a thickened stock or demi glace, or even water with a spoonful of cranberry jam in it. Even though it is not necessary, a rich flavor can be added to the jus by adding the drippings from cooked meat.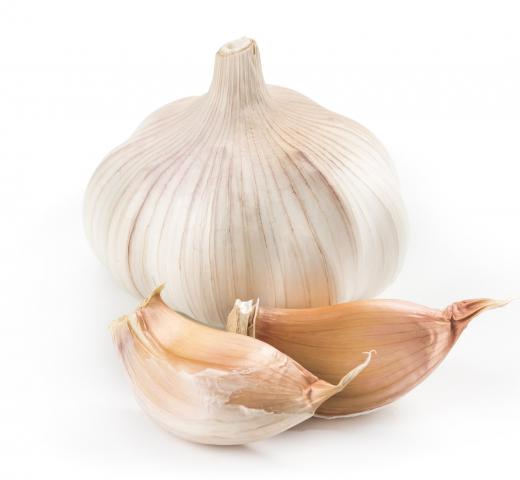 The type of cranberries used can vary based on the recipe and the availability of the fruit. Fresh cranberries will make a jus that has a very tart taste, while canned cranberries will have a milder flavor and might already have sugar or other spices mixed into them. Frozen cranberries can be used, as can pure cranberry juice or concentrate.
Cranberry jus is made by combining all of the ingredients in a pan and then cooking them until the sauce becomes thick and syrup-like. If fresh cranberries are being used, then the cooking should stop once they pop to prevent them from becoming bitter. Once the jus is thick, it should be strained before being served, especially if there are any solid particles in the pan, such as cranberry skins or flakes from pan drippings.
Some options for spicing the cranberry jus while it is cooking are bay leaves, ginger and garlic, or cloves. Wine or rum can be added to the pan as it reduces for a more complex taste. Other additions include zest from limes, orange juice in addition to pan drippings, or diced onions.


By: Yingko

Pure cranberry juice can be used to make cranberry jus.

By: 7activestudio

Cranberries contain properties that can combat urinary tract issues.

By: marrakeshh

Grilled chicken can be basted with cranberry jus.

By: natalyka

Garlic is often used to give cranberry jus added flavor.