Fat washing is a process that makes it possible to infuse various liquids with the flavor of melted fat. When performed properly, fat washing leaves behind the taste of the fat, but does not cause the liquid to retain a greasy taste or texture. The process is often used to create various types of infused beverages by marrying a fat with some type of alcohol.
One example of creating a drink with fat washing is combining filtered bacon grease with bourbon or rum. In order to begin the infusion process, the bacon grease is completely melted. The melted grease is then added to the rum or bourbon, which is at room temperature. This combined mixture is placed in the refrigerator, where it is allowed to cool long enough for the fat to rise and solidify at the top of the liquid. The solid fat is skimmed off the top of the liquid. What is left behind is alcohol that has the slight taste of bacon, but still has the smoothness of the rum or bourbon.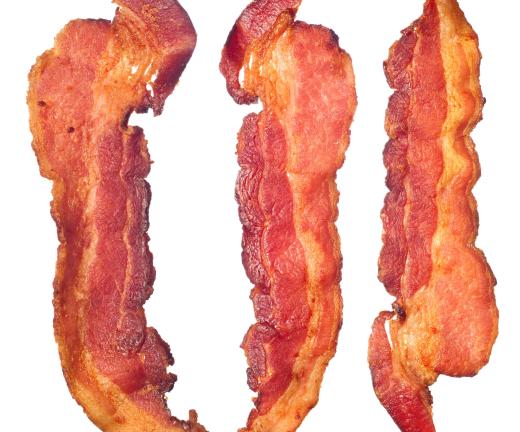 The same approach can also be employed with vegetable fats. For example, fat washing to create a buttered rum drink requires nothing more than melting a stick of margarine or butter. The melted butter is mixed into rum that is at room temperature. As with the bacon grease and bourbon, the rum and melted butter is placed into a refrigerator. Once the mass of the butter rises and solidifies, it is skimmed from the surface. The rum retains a slightly buttery taste without feeling greasy to the touch.
One key factor in producing a tasty drink with the use of fat washing is to always make sure the fat is filtered. This means that if bacon drippings are used, the grease must be strained to remove any small particles from the liquid grease. Filtered fat helps to maintain the smoothness of the finished product and eliminate the possibility of leaving behind a residue in the liquid that could result in a greasy texture.
Fat washing can be used with just about any type of animal or vegetable fat, and combined with any type of alcohol. Many fine restaurants offer specialty drinks that are built around the use of fat washing to create unique and desirable flavors. Because the infusion process is so easy to perform, it can also be used at home to create tasty drinks for parties or for a quiet evening at home.
AS FEATURED ON:
AS FEATURED ON:








By: Kelpfish

Fat washing can be used to give drinks the flavor of bacon without the grease.