Fermented milk, also known as cultured milk, is a type of dairy food which is made by adding lactic acid bacteria, mold, or yeast to milk. The specific chemical reaction and product that results from fermentation depends upon the type of bacteria used and the process by which it is combined with the milk. It is commonly used to create dairy products such as yogurt, cheese, sour cream, and buttermilk. Fermented milk was first made in order to increase the shelf life of dairy products. It can also make milk easier to digest and enhance the flavor and texture of dairy foods.
The use of fermented milk dates back to prehistoric times. For the most part, the ancient method usually consisted of letting bacteria naturally occurring in the lactic acid of milk go through the fermentation process. Allowing the milk to ferment helped it be useable longer.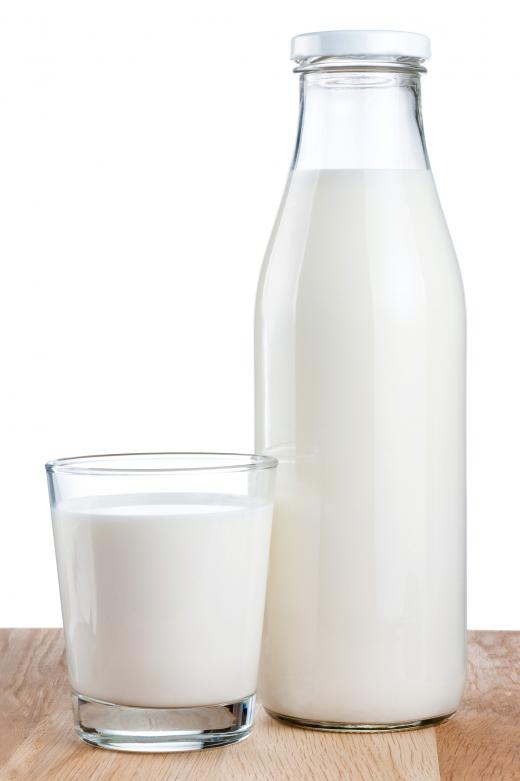 Now fermented milk is primarily made by adding bacteria to plain milk. The bacteria are sometimes even cultivated in laboratories so that they will have the precise attributes desired for a particular product. Some of the most common lactic acid bacteria used to make fermented milk include lactoccocus, lactobacillus, and leuconostoc.
The form and flavor of a fermented dairy food depends upon the type of milk product and the way in which the bacteria or mold are introduced. For example, yogurt and cheese are made with milk, while sour cream is started with light cream. Most milk products that are made from fermentation have at least one form of lactic acid bacteria. Some also have a specific type of mold or yeast in addition to the bacteria.
Fermented milk products can be beneficial to health, as the process often makes them more easily digestible for many individuals. In addition to products with beneficial live cultures like yogurt, bacteria such as acidophilus can be added to milk in order to make it more easily managed by those with lactose intolerance. There has also been evidence that certain fermented dairy foods can lower cholesterol and help ease diarrhea and other symptoms of inflammatory bowel disease.
Foods made from fermented milk can be found in several cultures around the world. Some popular foods include the French crème fraîche, which is a kind of sour cream, and lassi, a fruit-flavored yogurt beverage from India. There are also popular fermented dairy foods in regions including Scandinavia, Eastern Europe, and parts of Asia.
AS FEATURED ON:
AS FEATURED ON:








By: Hyrma

Fermented milk is fortified with bacteria or other probiotics such as acidophilus.

By: Colinda McKie

Yogurt is a fermented milk product.

By: Brent Hofacker

Most types of fermented Greek yogurt are low in fat and high in protein.

By: inesbazdar

Acidophilus can be added to milk in order to make it more easily managed by individuals who are lactose intolerant.

By: johny87

Some types of fermented milk are produced with both bacteria and mold.