Filet mignon is, quite simply, a high quality cut of steak. It is an extra thick cut, from the tenderloin, that is very tasty, extremely lean and usually the most tender cut available. While some people find other cuts to be more flavorful, this one simply melts in your mouth, making it one of the most popular choices in steaks.
A filet mignon is commonly cut about two inches (5 cm) thick and three inches (7.5 cm) wide, although there are variations. Filet is rather expensive by the pound (about 453 grams), but a single cut usually weighs much less than a pound, typically weighing in at six to eight ounces (about 168-224 grams). Filet mignon can be purchased in grocery stores and butcher shops, and it is also served in many fine restaurants. It is often wrapped with bacon to enhance the flavor. Because this cut is boneless and extremely lean, it is not quite as flavorful as bone-in steaks or those trimmed with a bit of fat.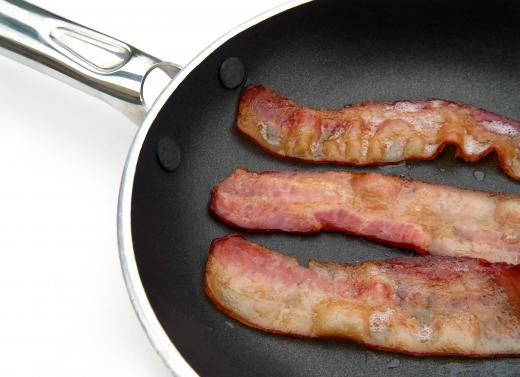 Another popular way to serve filet mignon is stuffed. Because it is so thick, the meat can be sliced open and filled with things like mouthwatering cheeses, mushrooms, cream cheese and onions. It is also frequently "butterflied" or sliced through and arranged like a thinner steak, so it can be cooked fully. This option is usually chosen by those who prefer medium well to well done steaks.
Most people who enjoy filet mignon prefer it left thick and have the steak cooked medium rare to rare. Be aware that a rare one will barely be warm in the center. You might want to have it cooked a little more, but it is best to ask for it rarer than you like, since it can always be cooked a little longer. Filet mignon is also frequently served with seafood, such as shrimp, crab legs and lobster. When served with lobster, the dish is called "surf and turf" in many restaurants. A small filet is perfect for accompanying such rich foods, and it also makes a good choice for the person who enjoys steak but does not have a large appetite.
AS FEATURED ON:
AS FEATURED ON:








By: sparkia

Filet mignon is often wrapped in bacon to enhance its flavor.

By: dhpmedia

Filet mignon is often paired with lobster in what is known as "surf and turf."

By: robynmac

Filet mignon can be served with Bernaise sauce for added flavor.

By: Viktorija

A filet mignon is a very expensive, lean cut of meat with very little marbling.