Frisee is a type of chicory that has exploded onto gourmet plates. The exotic plant resembles a lettuce gone horribly awry, with a pale green explosion of frizzy leaves that adds a frisky note to green salads. Some consumers are radically opposed to frisee, while others adore the bitter and sometimes woody green. This green was popularized in the United States in the 1990s by chefs across the country, who integrated it into a wide variety of salads, and it has since become available in many upscale grocers and at some farmers' markets.
Frisee often appears in mesclun and other salad mixes, because the green is extremely laborious and therefore expensive to produce as a sole salad ingredient. In addition, its distinctive flavor can be overwhelming, and a small amount can go a long way. It is generally served in loose chunks in salad to highlight its exotic feathered appearance.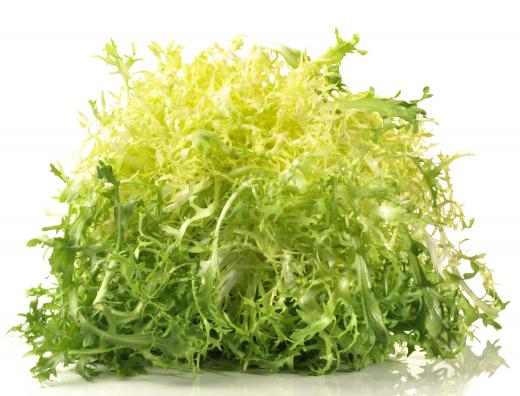 When growing, frisee resembles lettuce, with a loosely arranged head of curled leaves around a central stalk that is harvested once. In the United States, frisee plants tend to be small, although rumors of much larger heads grown overseas persist. Frisee grown for eating must be carefully protected from sun damage, which will turn the plant the rich green of a lettuce and make it woody and extremely bitter. Farmers have a variety of techniques for keeping the center of the green tender and white, or blanched, for market.
When cooking with frisee, always tear it rather than using a knife. Like other greens, it should be washed before consumption. Remember that the inner leaves are the most tender and can be used in more abundance than the tougher outer leaves. Because itcan brown or yellow, cut it shortly before use and dress it directly before bringing it to the table so that it doesn't discolor or become waterlogged. This green makes a spicy addition to green salads, or it can be served in more complex gourmet salads, starring with walnut vinaigrette and other bitter greens.
Like many other salad ingredients, frisee does not hold up well in the summer months. It should be planted in the early spring to mature in 45 to 60 days, in compost rich, moist soil. Plant the seeds at a shallow depth, approximately ten inches (25 centimeters) apart. Make sure that the danger of frost has passed before planting the delicate green, and position it in an area where it will get at least six hours of sun a day. As the plant nears maturity, tie the leaves together or cover the center of the plant to protect the tender inside from sun damage. It can be harvested like other lettuces, with a sharp knife close to the base, and it can be stored under refrigeration for approximately five days in a ventilated bag.
AS FEATURED ON:
AS FEATURED ON:








By: ExQuisine

Frisee.

By: WavebreakmediaMicro

Frisee is sold at some farmer's markets.

By: marrakeshh

Frisee can be added to a main dish salad that features grilled chicken breast and leafy greens.

By: Gennadiy Poznyakov

Frisee is sometimes added to green salads for a spicy flavor kick.

By: olly

Chefs started to integrate frisee into a variety of dishes in the 1990s.