Halvah is a Middle Eastern confection which is also widely made in the Balkans. A number of variants of halvah are made, but the primary recipe includes a seed, nut, or grain, ground with a sweetener such as honey or brown sugar, and flavored with additions of ingredients such as rose water, saffron, dried fruit, or nuts. Halvah is a popular sweet treat across the Middle East, and it often appears at banquets and ceremonial occasions.
The word for halvah comes from an Arabic word hulw, meaning "sweet." Some versions of halvah are so strongly sweetened that they can be almost painful to eat, while other variations are more moderately sweetened. Each cook has variations on the traditional halvah recipe used in his or her part of the world, and a myriad of flavor combinations are considered acceptable.
Many people are familiar with sesame halvah, which is made in the Balkans and Turkey. Sesame halvah is made with a base of tahini, mixed with honey and kneaded into a tacky dough which is allowed to set before being cut and served, or wrapped. Some cooks split the dough in half and mix half with cocoa before mixing it back in, creating a rich marbled chocolate sesame halvah. Others may roll the dough in pistachios, other nuts, or dried fruit.
In India and neighboring countries, many cooks make halvah with crushed semolina wheat. The wheat is mixed with honey and butter or oil and kneaded into a dough before dried fruit or nuts are added. This halvah has a different texture than sesame halvah, and tends to be more like a rich pudding. Other variations on halvah are also made with other seeds, such as sunflower seeds, or vegetable ingredients like carrots and pumpkin.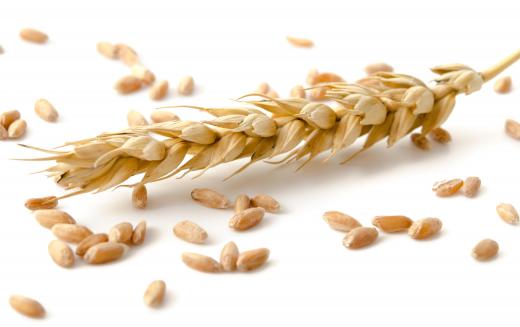 To make a simple sesame halvah, warm two cups of honey to approximately 240 degrees Fahrenheit (115 degress Celsius), until it reaches the soft ball stage, meaning that a spoonful of the syrup dropped into cold water will form a soft ball, which will flatten out if removed. Stir one and a half cups of tahini thoroughly to integrate excess oil which may have floated to the top, and warm it to 120 degrees Fahrenheit (50 degrees Celsius).
Fold the tahini into the honey mixture, and turn the warm mass out onto an oiled board to knead it. Kneading will give the halvah a light, flaky texture. When the mass is well kneaded, press it into an oiled pan to set, and allow it to cool completely before cutting. If you want to add nuts or other flavorings, mix them in with the honey before adding the tahini.
AS FEATURED ON:
AS FEATURED ON:








By: Jaimie Duplass

Halvah is typically sweetened with honey.

By: TRITOOTH

Halvah is a popular treat across the Middle East.

By: womue

Crushed semolina wheat may be used to make halvah.

By: matka_Wariatka

Some halvah recipes call for both fruit and nuts.