What is Happening As Bananas Ripen?
Just about everyone who buys bananas knows that the fruit can move quickly from being firm with a green peel to being soft with a mottled brown and yellow peel. There are several processes that are at work on both the chemical and nutritional value of the fruit, as well as the texture of the peel. As bananas ripen, the peel releases nutrients into the fruit, and the starch begins turning to sugar.
One of the first things people tend to notice is the change in the color and thickness of the peel that covers the fruit. Just as changes are taking place inside, shifts in the composition of the peel are occurring. As the banana develops, the peel acts as a housing for chlorophyll that is manufactured as a result of the direct sunlight required to grow the fruit. As the interior fruit reaches peak condition, the green peel that had been absorbing all that sunlight begins to undergo a chemical change that helps to mellow the fruit. As a result, the interior of the peel releases nutrients into the fruit that enhance the sweetness.
At the same time, the peel begins to lose chlorophyll content and changes from green to yellow. During this transformation, the peel itself begins to deteriorate, leaving behind only a thin covering that can be peeled away from the mature fruit with ease. Since bananas ripen quickly, it does not take long to go from a bitter green to a sweet yellow fruit.
On the inside, important things are happening at this time. During the earlier stages of the maturation process, the fruit has a distinctly tangy flavor that lacks sweetness. For some, the fruit at this stage is almost bitter. As the banana reaches maturity, and the interior of the peel begins to release nutrients into the fruit, however, changes take place. The starch found in the inner linings of the peel and in the fruit proper convert into simple sugars that work through the fruit, leaving a texture that is softer and considerably sweeter.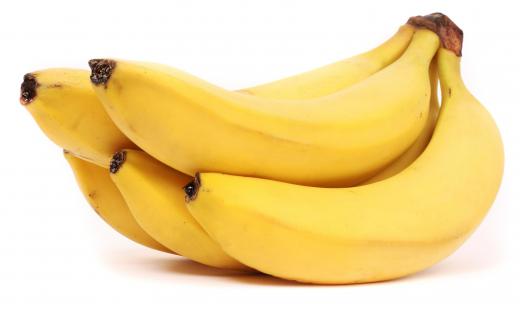 Strictly speaking, there is no one ideal stage to consume this fruit, and various modes of preparation call for ripening bananas at varying states. When cooking the whole fruit, green bananas are usually preferred, due to their firm nature. For general consumption as a snack or in a cold dessert, one that is yellow and still firm is considered ideal. For use in cooked recipes, such as banana bread, it's best to use those that have become soft and feature a peel that is mottled brown with yellow. Since bananas ripen and are harvested at various stages, it is relatively easy to purchase them at any point in the maturation process.
AS FEATURED ON:
AS FEATURED ON:








By: Baharlou

Bananas at various stages of ripeness.

By: tungphoto

Banana stalk.

Bunch of bananas.

Red bananas.