Hoppin' john is a rice and bean dish that is common to Africa, the Caribbean islands, and the southeastern region of the United States. The dish is typically made with long-grain white rice and black-eyed peas, although other types of beans or peas may be used. A traditional hoppin' john recipe also includes diced onions and some kind of salt pork.
Each household and region has its own method of preparation for hoppin' john. In some places, the rice and peas are cooked together; in others, the rice and peas are cooked separately and served together at the table. Variations on black-eyed peas include black beans, kidney beans, and field peas. To give the dish its savory flavor, ham hocks, fat back, or bacon may be used. Some cooks also add sausages to the dish.
Much folklore is associated with hoppin' john, although the origin of the name is uncertain. It is believed to be a mispronounced derivation of the French word for pigeon peas, "pois de pigeon," which is properly pronounced "pwah-duh-pee-zhon." Other possible origins include a nickname for a limping man named John or the tradition of extending a dinner invitation with the expression, "Hop in, John."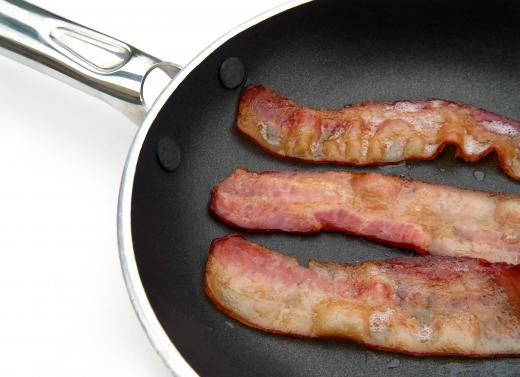 Hoppin' john is most popular as a meal on New Year's Day. It is believed to bring good fortune and prosperity, especially when it is served with leafy greens such as collard, mustard, or kale. Sometimes a coin is hidden in the dish for extra luck. When leftover hoppin' john is served the next day, it is called Skippin' Jenny or Limpin' Kate.
The dish first appeared in the New World on the intercoastal islands along the mid-Atlantic seaboard and the low country plantations of South Carolina. One of the most colorful references to hoppin' john in American literature is in the novel "The Member of the Wedding" by Carson McCullers. In this passage, the main character expresses her passion for the dish:
"Now hopping john was F. Jasmine's very favorite food. She had always warned them to wave a plate of rice and peas before her nose when she was in her coffin, to make certain there was no mistake; for if a breath of life was left in her, she would sit up and eat, but if she smelled the hopping john, and did not stir, then they could just nail down the coffin and be certain she was truly dead."
AS FEATURED ON:
AS FEATURED ON:








By: tfazevedo

Assorted beans, including black-eyed peas on the lower right.

By: sparkia

Bacon is often included in hoppin' john to enhance the flavor.

By: silencefoto

Adding kale to hoppin' john is believed to bring good fortune.

By: Vadim Balantsev

White rice is typically used in hoppin' john.

By: Onionhead

Collard greens are commonly served with hoppin' john.