Hunan beef is a spicy regional Chinese dish consisting of thinly sliced beef flavored with hot chili peppers. Chinese food is mainly differentiated by region, with each region having distinctive flavors and traditional dishes. Hunan is a region in western China and its cuisine tends to be known for its spiciness, with whole hot chili peppers being used to flavor many dishes. Hunan beef is one of the region's most widely consumed dishes throughout the world, and is often cooked with bell peppers, onions, and a soy and rice wine sauce.
Flank steak or sirloin is generally recommended in particular in many Hunan beef recipes, but any boneless cut of beef steak may be used. The spicy flavor is added to the dish with the use of whole fresh or dried chili peppers. Other traditional ingredients in the dish are garlic, shallots, ginger, soy sauce, and Shaoxing wine, an Asian wine made from fermented rice; dry sherry may be used as an alternative if Shaoxing wine is not available.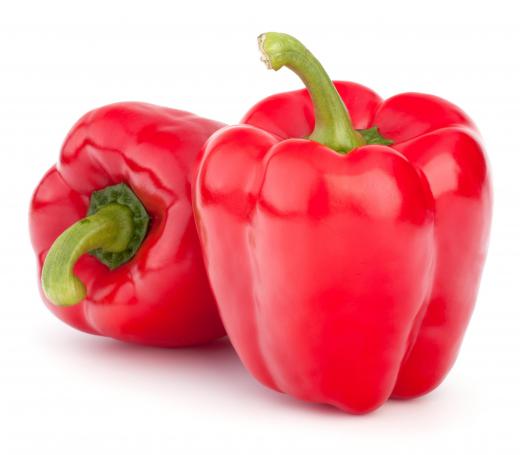 Hunan beef tends to have flavor added in stages by first being marinated, and then briefly deep fried before finally being cooked through in the sauce. The boneless beef is thinly sliced, and combined with the chili peppers, soy sauce, wine, and garlic, along with cornstarch. The cornstarch acts as a binder to help the sauce ingredients stick to the beef, as well as to thicken the sauce as it cooks. The longer the meat marinates, the spicier it may become, so marinating time varies depending on the cook's preferred spiciness level.
The marinade is generally separated from the beef so that the beef may cooked separately, and then used as the sauce for the dish. Deep frying the marinated beef for a short period of time is intended to give the dish a slightly crispy outer texture, while keeping the inside undercooked. The fried beef is combined with the reserved marinade and cooked until the mixture thickens into a sauce that coats the beef; therefore, undercooking the meat prior can help prevent it from becoming tough as it cooks in the sauce.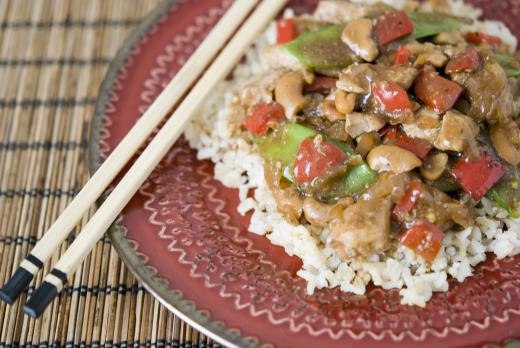 Hunan beef may be served with stir-fried bell peppers and onions in order to make the dish more filling and to add more flavors and textures. The meat and vegetables are traditionally cooked separately since they have differing cooking times, and then mixed together right before serving. It may be served with rice, noodles, or a Chinese sesame seed flatbread known as shao bing.
AS FEATURED ON:
AS FEATURED ON:








By: Natika

Sliced red bell peppers are often stir-fried and served with Hunan beef.

By: gringos

A map of China, including the Hunan province in gray.

By: Periwinkle Studio

If beef is unavailable, chicken can be substituted in a spicy Hunan dish.

By: Stepan Popov

Hunan beef can be served with brown rice in order to boost the dish's nutritional content.

By: Brent Hofacker

Any boneless cut of beef steak can be used for hunan beef.