Irish cheddar is white cheddar cheese that is made in Ireland, generally from Irish milk. This type of cheese can generally be used in any application where cheddar cheese is used. It is common in Irish-themed dishes, cheese appetizers and beer flavored macaroni and cheese or fondue. When sold outside of Ireland, this type of cheddar is typically wrapped differently from the typical wrapping found on domestic store-bought cheddar. This cheese is generally the most widely recognized type of cheese from Ireland and makes a regular appearance at Irish-themed celebrations like the ones on St. Patrick's Day.
This cheese can be served in many ways, as part of a dish or on crackers as a simple snack. Irish cheddar chunks are sometimes made into soft, spreadable flavored cheese dips with flavorings like whiskey, berries, and beer. A common use of this type of cheese is to melt it into a fondue that is flavored with Irish beer, which is eaten by dipping bread in the melted cheese.
In most areas, a few major brands of Irish cheddar appear on the specialty cheese shelf at grocery stores carrying high-end and gourmet products. The packaging on Irish-made cheddar gives it a distinct look that sets it apart from other cheddar cheeses. While most store-bought cheddars are wrapped in clear plastic, the packaging on Irish varieties can include wax, wax paper or opaque shrink wrap. These cheeses do not have a rind. Some specific varieties of Irish cheddar are called by the name of their packaging, like Irish red cheddar.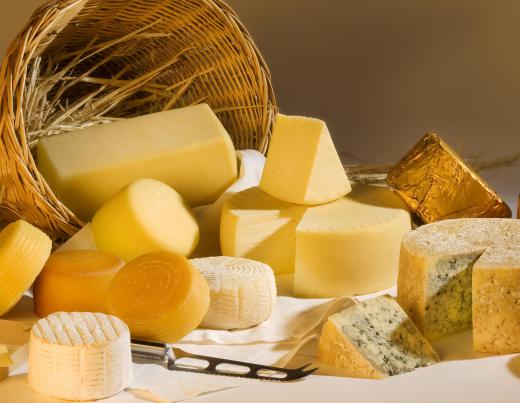 Like other cheddar cheeses, Irish cheddar cheese is made from milk that is curdled and kneaded with salt to drain the whey before the curds are packed into blocks for aging. Kneading the curds with salt is a process called cheddaring. Unlike other common cheddars, most Irish cheddar cheeses are not colored, giving them a creamy white, rather than yellow-orange, color. While cheddar can be made from raw milk, Irish cheddar is most often made from pasteurized milk.
Most people familiar with cheese are aware of Irish cheddar. This cheese is so well-known outside of Ireland that many Irish cheese enthusiasts have made efforts to raise awareness of the other types of cheese produced in Ireland. Other popular Irish cheeses include Coolea, Gubbeen, and Dubliner.
This type of can have a mild flavor, or it can be potent and sharp. Cheddar cheese can be aged briefly, producing a mild taste, or aged for over a year for a tangier and more pungent cheese flavor. When it is aged, it is often labeled as sharp Irish cheddar.
AS FEATURED ON:
AS FEATURED ON:








By: searagen

Irish cheddar is the most widely recognized type of cheese from Ireland.

By: manuart

Most Irish cheddar cheeses are pale and are not colored with annatto or other spices.