What Is Japanese Cheesecake?
Japanese cheesecake, also sometimes known as "souffle cheesecake," is a type of dessert confection that is made primarily with meringue and cream cheese. It is not a traditional Japanese dessert, but nonetheless enjoys popularity throughout much of the country and is served in many restaurants both nationally and internationally. It entered the Japanese national consciousness and gained a more or less streamlined recipe in the 1980s, and is popular in specialty bakeries in many places around the world today. Its most defining feature is usually its lightness. It is made with cream cheese, which is where the "cheese" part of its name comes from, but the meringue gives it a texture that is more airy than dense. It doesn't usually have a crust. The taste profile is often similar to the denser New York-style cheesecake on which it was modeled, but it's usually a lot lighter and less filling.
Basic Concept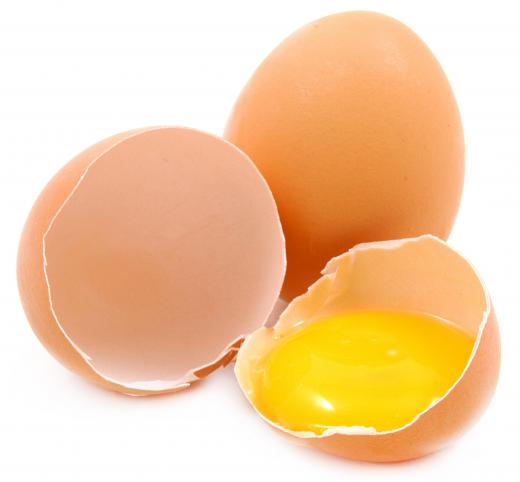 In general, a cheesecake is a dessert made with cream cheese and butter as the primary fillings. Food scholars usually acknowledge that the New York cheesecake was the original variant, and most of the cakes made in the United States follow the basic New York model. Some include flavors and fruits, but the basic core is usually about the same — cooks create the dense filling from cream cheese, butter, eggs, and sugar, then pour it into a crust. The most traditional crust is made with graham crackers that have been crushed and then formed, commonly with melted butter to hold them together.
The Japanese version is a similar concept but has a fluffier, lighter presentation. It does not have a crust, and it typically uses eggs that have been separated — only the yolks are added to the batter, whereas the whites are whipped into a fluffy meringue before being folded into the cream cheese mixture. It is uncommon for this sort of cake to be flavored or to contain specialty toppings. Most cooks serve it plain in order to accentuate its delicate flavor.
History and Creation
There is some controversy when it comes to who "invented" or first created the Japanese version of the cheesecake, but most people agree that it didn't become popular until the late 1980s when it was featured on the menu of an American-style bakery in Fukuoka, a city in the south of Japan.
Main Ingredients
Cream cheese is perhaps the most essential ingredient, and is what gives the cake its characteristic tang and recognizable cheese flavor. Unsalted butter, egg whites, milk or cream, and scant amounts of sugar are also important additions. Sugar is usually included only to the extent that it is needed to cut the tanginess of the cheese, and in most cases is used quite sparingly. Cornstarch, cream of tartar, and light cake flour are usually included as well to help the cake achieve a uniform consistency.
How It's Made
This sort of cake is usually made in three main parts: first, a cook makes the meringue; then he or she mixes the rest of the filling; and finally, both components are folded together and baked, usually in a spring-form or round cake pan. Meringue is a sort of froth or foam that's created by beating cream of tartar with eggs whites at a high speed. Since the meringue gains most of its volume from tiny air bubbles that enter in during the mixing, the cake is filled with these bubbles as it cooks, creating the light, airy texture of the finished dessert.
The cream cheese mixture is most commonly made in a double boiler or a heat proof bowl that fits snugly into a pan full of water. The milk, cream cheese, egg yolks, and butter are heated in the boiler. Afterward, the cream cheese mixture is cooled and the flour and cornstarch are stirred into the mix.
Baking Considerations
Most cooks bake Japanese cheesecakes in a water bath, which basically means that the cake pan is placed in a larger roasting pan that's been filled with hot water. In a hot oven that water will evaporate into steam, which can help keep the cake moist. Cooks also usually pay close attention to the cooling time and temperature. It's usually recommended that the cake cool slowly to prevent collapse; taking it directly out of the oven and into a cold kitchen can cause a disturbance in the meringue bubbles inside that can cause sinking and folding of the cake's exterior.
AS FEATURED ON:
AS FEATURED ON:








By: Ingae

Yolks are the only part of the egg that are used to make Japanese cheesecake.