Kefir is a cultured milk beverage which is popular in the Middle East, Eastern Europe, and parts of the Mediterranean and Russia. It is made by inoculating a milk with kefir grains, a mixture of yeasts and bacteria which will sour the milk slightly, creating a drink which is almost like liquid yogurt. Traditional forms have a tangy, rich flavor which may be altered with the addition of ingredients like pureed fruits and sweeteners, or consumed plain. Some markets and natural food stores stock kefir, and it is also possible to order the grains from suppliers to make it at home.
The word "kefir" is Russian, and it is probably derived from a Turkish word which means "to froth." Traditionally, it was made from camel's milk, although milk from other animals can be used as well. People who prefer not to use dairy may also make it from plant or nut milks such as soy or almond milk. The beverage is typically made at room temperature, and it takes around 18 hours to mature fully, although in cold climates this may take longer.
When kefir grains are introduced to milk, fermentation begins, changing the chemical structure of the milk. Fermentation creates a characteristically soured flavor, and it can turn the beverage slightly alcoholic in some conditions. As the milk ferments, it thickens, and once the kefir is ready it is consumed or refrigerated. Traditionally, it is not sweet, although many companies package their kefir with sweeteners to make it more appealing.
There are a number of uses for kefir. Some people drink it plain because they believe that the cultured milk is good for them, and it seems to help with digestion for some people, according to studies on the beverage. Kefir can also be used in smoothies, baked goods, and other foods if a tangy flavor is desired. The beverage generally keeps fairly well under refrigeration for a few days.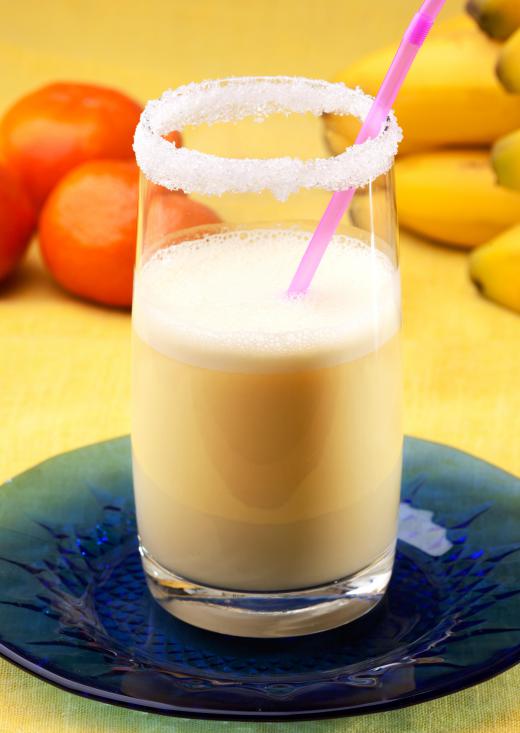 For people who are not familiar with kefir, the cow's milk version is a good place to start, since it has a mild, creamy flavor. That made with sheep or goat milk can be a bit gamy and tangy, because of the hormones that these animals produce. Non-dairy varieties are also commercially available, for people who want to enjoy the flavor and health benefits without using animal products.
People who want to make their own kefir can order starters through natural food stores or online retailers. These starters come with detailed instructions on the culturing process, so that people can be confident that they are making a food which is safe to drink. It is important to use sterile containers and stable temperature conditions when making it, to ensure that only good bacteria are allowed to grow in the culture.
AS FEATURED ON:
AS FEATURED ON:








By: picsfive

Milk, which is used to make kefir.

By: Alexey Stiop

Kefir made with sheep milk may taste gamey or tangy.

By: Tyler Olson

A banana-orange smoothie made using kefir in lieu of milk.

By: ruticar

Kefir was originally made from camel's milk.

By: Iryna Volina

Kefir is popular in Russia.