What Is Leipziger Lerche?
A Leipziger lerche is a sweet German pastry filled with nuts and strawberry jam which is one of the delicacies for which Leipzig, in Saxony, Germany is known. Lerche is actually German for "lark," from which the pies were originally made, before the hunting of the birds was banned. The sweet pastries usually have a pastry cross on their lid.
In 18th century Leipzig, Leipziger lerche was a sought-after delicacy, made with larks caught near the Elster River, baked with eggs and spiced. It was so sought after that the lark population were in danger to the point that the King of Saxony banned the pastry completely. At this point, some bakers decided to come up with a sweet equivalent, and the Leipziger lerche as it is now known was created.
There are a number of variations to the Leipziger lerche but they all share a short crust pastry made with butter, flour, salt, sugar and water. The filling is made from almonds and other nuts, which are usually ground and mixed with egg, sugar, butter and rum. Again, variations have been developed to the recipe and differ from chef to chef. In the center, a spoon of jam or a cherry is placed, before filling the pastry cups with the nutty mixture. This represents the heart of the lark.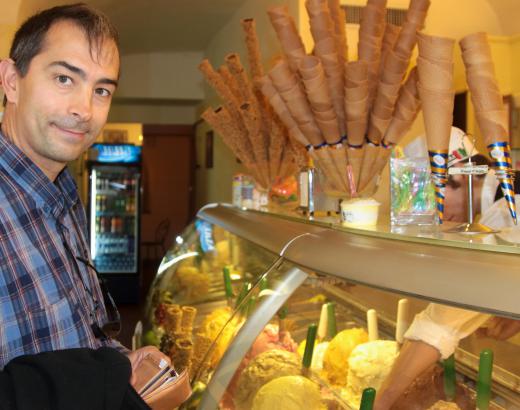 The final step before baking is the placement of the pastry cross on top of the pastry lid. The name Leipziger lerche has been protected by the Saxonian Bakery Guild since 2004. Many bakeries in Leipzig still follow the traditional recipe of this sweet delicacy.
Germany is well known for its delicious range of baked goods. One of the most famous is Stollen, which is made at Christmas time. This is usually in a loaf shape and contains nuts, candied and dried fruits. The cake is then sprinkled with icing sugar.
Another lighter but richer German delicacy is Black Forest Cake, which is layered chocolate cake with cream and cherries. The cake may be soaked in alcohol such as cherry liqueur. In German it is known as Schwarzwälder Kirschtorte and it is decorated with whipped cream, cherries and chocolate shavings.
Visitors to Leipzig still flock to local bakeries which make Leipziger lerche not only to experience the taste but the tradition too. Sitting at a pavement table with coffee and a Leipziger lerche, locals and tourists alike can watch the world go by. Many feel the sweet treat outdoes its original meaty flavor.
AS FEATURED ON:
AS FEATURED ON:








By: Okea

The German pastry Leipziger lerche can be topped with whipped cream and chocolate shavings.

By: Eléonore H

Visitors to Leipzig, Germany still flock to local bakeries which make Leipziger lerche not only to experience the taste but the tradition too.