Luster dust is an edible food decorating powder that sparkles once it dries. It is commonly applied to the frosting of cakes and cookies, especially for formal events or during the holiday season, when many people enjoy rich gold and silver accents on their baked goods. Bakery suppliers usually stock this powder, and bakers can also order it through mail-order companies that specialize in baking products.
Although gold and silver are both common, luster dust comes in a range of colors, from bold primaries to jewel tones. It can be used to create highlighted accents on a finished piece, or it can be applied in larger volume to give a baked good a glossy finish. The product may also be called sparkle dust, pearl dust, or sparkle powder, and it is perfectly safe to eat, just like the gold and silver leaf that is applied to fancy cakes.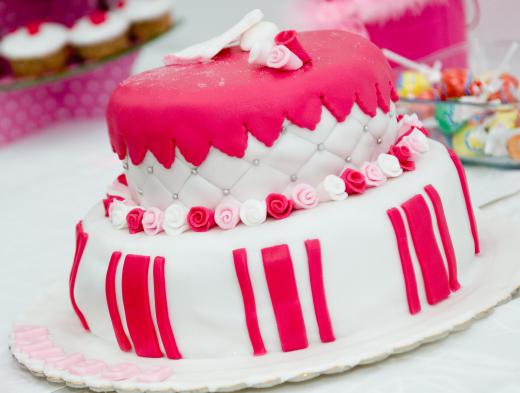 A container of luster dust is typically rather small, because a little bit goes a long way. To use it, the cook will need to dissolve the dust in an extract that contains alcohol, such as vanilla or orange extract, or an alcohol like vodka; by using an alcohol solution, the cook ensures that the moisture will evaporate after the dust has been applied. Mixing it with water or other liquids is not recommended, as it can turn sticky and dull.
Once the luster dust is mixed, it can be applied with a small brush. Cake decorators typically frost a cake with a matte white frosting and then apply the powder over it; the frosting will glow through, making the cake sparkle in good lighting. There are lots of ways to apply luster dust, from a gentle brushing of a whole cake to give it a rich glow to a streak on a holiday cookie for some pizazz.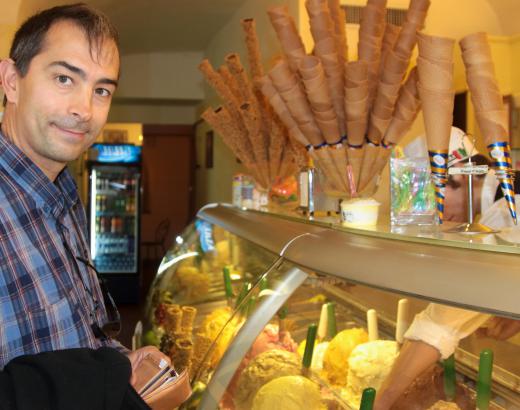 Many companies sell packages with a rainbow of colors. Colors can be blended for subtle shading, or mixed individually and painted on to create shimmering images. The dissolved dust can also be used in an airbrush decorating tool, or fondant flowers can be dipped into it to turn them into sparkling decorations. Luster dust can also be used to highlight leaves, flower petals, and other sculpted decorations on a cake, although this requires a fine brush and a steady hand.
AS FEATURED ON:
AS FEATURED ON:








By: Michalis Palis

Luster dust may be applied to the frosting of cakes.

By: Globalphotogroup

Luster dust comes in a variety of colors and may be applied to the frosting of cookies.

By: Eléonore H

Bakeries use luster dust to increase the visual appeal of their products.

By: sepy

Luster dust is used by many retail bakeries that have storefronts and sell directly to customers.

By: Gang

Luster dust may be used to decorate donuts.