What is Maytag Blue Cheese?
Maytag blue cheese is a type of cow's milk cheese made near Newton, Iowa. This varietal of blue cheese is considered by some fans to be one of the finest blue cheeses, made with locally produced Iowa milk in small batches. The use of cow's milk as opposed to sheep or goat gives this cheese a rich, creamy flavor which pairs well with the spicy Penicillium mold which develops during the curing process.
The first batch of Maytag blue cheese was made in 1941 at the Maytag Dairy Farm, using a recipe developed at Iowa State University. According to staff at the dairy, the milk for the cheese is homogenized, but not pasteurized, before it is processed in small batches and inoculated with the culture which will promote the development of fine threads of blue mold in the finished cheese.
During the cheesemaking process, the milk is curdled, and the curds are packed into cheese wheels which are stored in special caves for a six month aging process. At the end of the aging, the cheese develops a fine marbling of blue mold with a distinctively spicy flavor. The cheese itself is usually a very pale white in color, and it is soft, though slightly crumbly.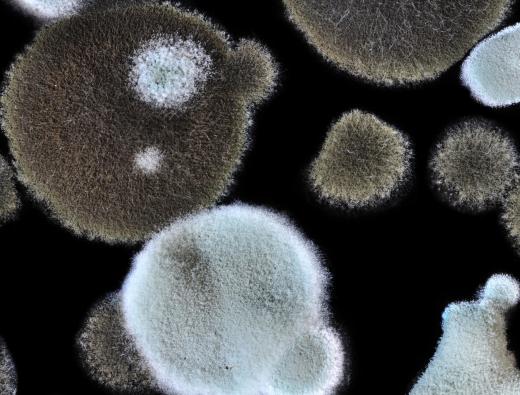 Maytag blue cheese is soft enough to make an excellent spread for crackers and sandwiches. It can also be crumbled into salads, added to sauces, sprinkled on pizzas, and used with a wide variety of other dishes, depending on personal taste. The cheese should be kept under refrigeration before use, and once it has been opened, it should ideally be used within a week or so.
Like other blue cheeses, Maytag blue cheese is not to everyone's taste. It has a tangy, intense flavor and a pungent odor which are too strong for some people. If you have not tried Maytag blue cheese before, you may want to go to a cheese shop which offers tastings. For others, the creamy texture, rich mouthfeel, and spicy streaks of mold are a little slice of cheese heaven.
Just in case in you're curious, Maytag blue is, in fact, related to the famous American appliance company. Although Maytag has since been acquired by other companies, the dairy continues to be a family owned and operated company, and the friendly staff welcome questions and visitors. In addition to producing their flagship cheese, the dairy makes several other cheeses as well, all from fresh Iowa farm milk.
AS FEATURED ON:
AS FEATURED ON:








By: Andrey Kuzmin

Maytag blue cheese is made from homogenized cow's milk.

By: johny87

For better or worse, mold can flourish on Maytag blue and other cheeses.

By: Moreno Soppelsa

Maytag blue cheese is left in caves for a six month aging process.

By: Denis Tabler

Blue cheese is a common dipping sauce for wings.

By: Gerard Koudenburg

Maytag blue cheese is made from cow's milk.