Mezzaluna pasta is a type of filled pasta that is made in a half moon shape, as its name implies: mezzaluna means "half moon" in Italian. This basic pasta shape is quite common; most markets carry it, and it is also possible to find it in restaurants. A wide variety of fillings and sauces may be used with the pasta, ranging from vegan versions to rich, creamy meat and cheese incarnations.
Typically, mezzaluna pasta starts with a base of egg pasta, which is rolled out and then cut with a small die into circular shapes. This pasta tends to be small, requiring a delicate hand with the filling to ensure that it is not overloaded. A dab of filling is placed on each circle and then the circles are folded over and crimped to ensure that they are sealed. The resulting pasta can be cooked immediately, kept under refrigeration for around a week, frozen for several months, or dried, depending on personal preference and the ingredients used.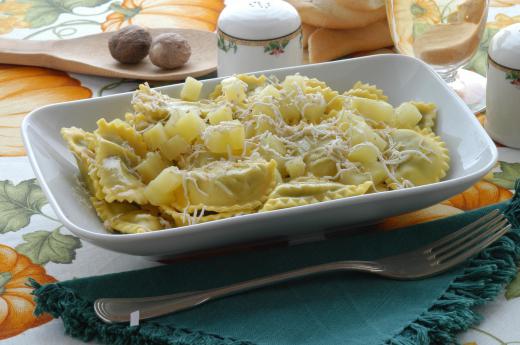 The ingredients in the filling are usually cooked before they are mixed and stuffed into the pasta. This ensures that they will be completely cooked, creating a uniform texture and ensuring that the resulting pasta is safe to eat if it contains meats. All sorts of things can be used in fillings, like cheeses of varying flavors, meats, seafood, herbs, vegetables, and mushrooms. The wide variety of fillings can be paired with an assortment of sauces, ranging from delicate lemon caper sauces that complement truffle stuffed pasta to hearty meat sauces for cheese-stuffed pasta.
Fresh mezzaluna pasta should cook within a few minutes; it generally floats to the top of the cooking pot when it is finished. Dried pasta may take up to 15 minutes, but cooks should follow the package directions if they are not sure. Chefs should also put some thought into the filling of the pasta when considering a sauce. For example, a heavy sausage sauce would overwhelm a pasta stuffed with seafood.
A cook can make this pasta at home very easily. She should start with her pasta dough of choice; for some variation, she could even add sundried tomatoes or spinach to the dough, especially if she wants to make vegan mezzaluna. While the dough is resting, the cook should mix up a filling; many Italian cookbooks have fillings for stuffed pastas, and cooks can also invent their own. When the filling is mixed to taste, the dough can be rolled out and cut into circles, then filled. If the cook has trouble keeping the mezzaluna closed, she can paint the edges with egg before crimping them together, encouraging a firm bond.
AS FEATURED ON:
AS FEATURED ON:








By: Comugnero Silvana

An entree of mezzaluna pasta.

By: andriigorulko

The edges of mezzaluna can be painted with egg to encourage a good hold.

By: anjelagr

Spinach can be added to the dough of mezzaluna pasta.

By: Picture Partners

Truffle filling is a popular choice for stuffing mezzaluna pasta.