Milk sugar is a single molecule of glucose linked to a single molecule of galactose to form a carbohydrate. It is also commonly known as lactose, which is a special form of carbohydrate called a disaccharide. Lactose is the first and only form of carbohydrates consumed by humans and other newborn mammals in significant quantities. Although all mammals' milk naturally contains lactose, it is produced industrially from cows' milk.
Research has shown that nearly 70% of the world's population is intolerant to milk sugar, a condition called lactose intolerance. It may cause digestive problems ranging from gas and bloating to gastrointestinal discomfort and diarrhea. Lactose intolerance may be caused by a deficiency of the enzyme lactase, which is present on the surface of cells lining the small intestine. The function of lactase is to break down this complex sugar into simpler forms of sugar, glucose and galactose, that can be more easily absorbed by the bloodstream.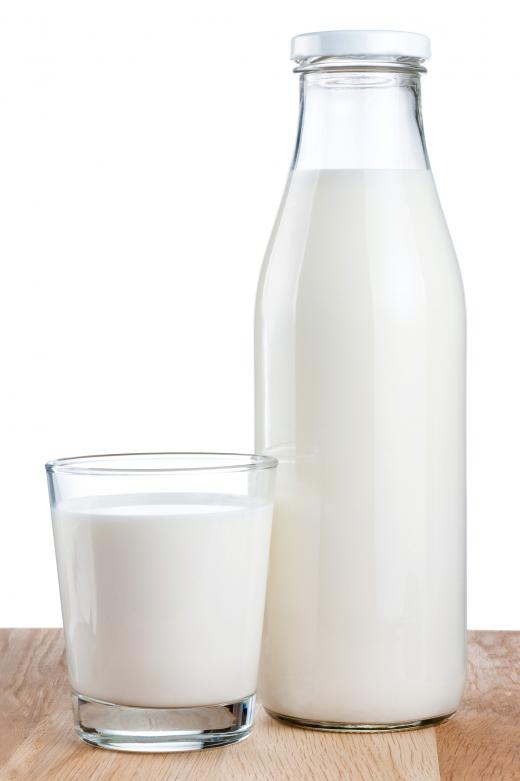 Some dairy products are marketed to people who have lactose intolerance. These food items include everything from milk to ice cream and cheese that have had all the lactose removed. Dietary supplements are also available that enable people who have an intolerance to the substance to digest it.
For people who don't have trouble digesting lactose, dietary supplements containing milk sugar are commonly used as part of a high-calorie diet or to gain weight. It is sometimes used as a sweetener in fermented alcoholic beverages like beer as well. Lactose may also be used as a stabilizing ingredient in the production of aromas and fragrances.
Lactose is also commonly used in the pharmaceutical industry as an excipient — an inert substance used as a vehicle for a drug's active ingredients. Lactose tends to be inert, meaning it does not commonly react with other ingredients, and it is also non-toxic and inexpensive. This makes it ideal for use in pharmaceuticals such as tablets, capsules, and dry powder inhalers. Pharmaceutical lactose is isolated from milk whey through the processes of concentration, crystallization, and purification.
Fabricio Bartoletti was a doctor of philosophy and medicine who discovered the presence of lactose in milk in 1619. A professor of surgery and anatomy, Fabricio Bartoletti was also the first person to isolate the milk sugar from the whey. Lactose wasn't identified as a sugar until 1780 by a pharmaceutical chemist named Carl Wilhelm Scheele.
AS FEATURED ON:
AS FEATURED ON:








By: Hyrma

Milk sugar is also called lactose.

By: ellisia

Lactose, also known as milk sugar, is produced from cows' milk.

By: WavebreakMediaMicro

70% of people have an intolerance to milk sugar, a condition also known as lactose intolerance, which causes a variety of digestive problems.

By: Givaga

Beer may contain milk sugar.

By: Gennadiy Poznyakov

Pharmaceutical tablets and capsules may contain lactose.

Jug of whey.