Minestrone is the name of a variety of chunky Italian soups. The Italian root word is minestra, which refers to chunky soup. These soups are generally tomato based with beans, onions, celery, crushed or chopped tomatoes, and carrots, and many also include pasta. There is no specific recipe for minestrone, and there are only a few general rules for making it:
Cooks should use vegetables that are in season and readily available.
The ingredients should be those the cook has on hand.
In fact, the term is used in some instances to denote "hodgepodge" or "thrown together." Traditionally, the vegetables, a bit of meat, and some (possibly leftover) pasta — the ingredients that make up the soup — were originally just a combination of leftovers. Minestrone is a very important part of Italian cuisine, and is as important pasta, if not more so.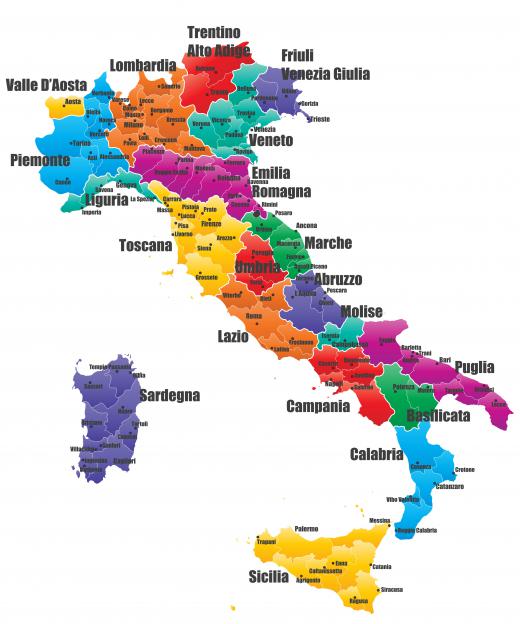 Like many of the most famous and widely enjoyed foods in the world, minestrone was originally peasant food. The dish is meant to be both easy to make and delicious, both nutritious and inexpensive. It was not created in gourmet kitchens, but instead was born in the kitchens of commoners looking for a way to fill the bellies of their family members with a pleasing dish. Because of this tradition, the soup is considered to be part of the cucina provera, which literally means "poor kitchen," and is used to describe food made by people of little means.
Because minestrone has such a loose recipe, there are many different versions. Different regions of Italy are home to many traditional regional varieties. Furthermore, the ingredients and texture of the soup can vary depending on the time of year. The soup can have a thin broth with lightly-cooked diced vegetables, or it can be a thick soup full of thoroughly boiled vegetables. Some are vegetarian while others are made with beef or chicken stock, or even include meats.
Pasta fagioli is a pasta dish similar to minestrone. It is heavier on beans and pasta and lighter on broth, but the concept and flavors of the dish are essentially the same. Pasta fagioli is also a part of the cucina provera tradition. It was most likely created in a similar manner, only with more pasta and fewer vegetables left over in the larder.
AS FEATURED ON:
AS FEATURED ON:








By: Zdenka Darula

Any vegetables that are in season and readily available can be added to a minestrone by the cook.

By: willypd

Different regions of Italy are home to many traditional regional varieties.