Misua, also miswa, are extremely thin Chinese noodles made of wheat. They are slightly thinner than the already thin rice vermicelli, but the wheat gives them a texture somewhat like exceptionally thin pasta. When dry, they are nearly white in color and look somewhat like a bundle of brittle gray hairs or slightly like an immaculate bird's nest. These noodles are highly versatile in Chinese cuisine, as they're served with many complementary foods, and can be fried for use as a garnish or boiled in soups and salads. Misua are occasionally labeled wheat vermicelli in stores.
Cooking these noodles is a brief affair, and avoiding overcooking them can take some measure of vigilance from the chef. Since the noodles are so thin, they cook and soften quickly in hot water, so quickly that they are sometimes stirred into soup that has already been removed from heat. Sometimes, these thin noodles are added directly to hot broth in a serving bowl to freshly cook them in the cooling meal. The goal when heating misua is not to heavily cook them by boiling, but to lightly soften them within a dish.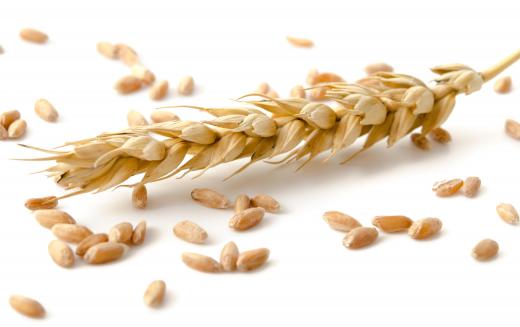 Common misua dishes include meatball and noodle soup or seafood noodle stew. Sardines are also a popular ingredient in soups with this type of noodle. It also appears as an ingredient in many sauteed or stir-fried meat or vegetable dishes. The stir fried version is called cha misua. Chayote, known as sayote in the Philippines, and patola, an okra-like gourd, are widely popular vegetables to find served with misua.
Misua noodles originated in Taiwan, an island off the mainland coast in East Asia. These noodles are used mainly in Chinese and Filipino cooking. Misua signifies long life, and the noodle is a traditional birthday food in China. Though these slender noodles can be served with many ingredients, they are most often found served alongside or under a pile of eggs, meat, and offals, especially prepared pig intestine. These noodles can also be used with mushrooms, vegetables, and tofu.
Outside of China and the Philippines, these noodles are most often found at an Asian or International grocer. When misua cannot be located, a common substitute is Chinese-style long-life noodles, though they are thicker noodles that do not contain egg. When Chinese products are not available, angel hair pasta is also used as a substitute for this hard-to-find noodle.
AS FEATURED ON:
AS FEATURED ON:








By: womue

Misua is a Chinese noodle made of wheat.

By: perfectmatch

Sardines are popular in soups made of misua.