Mornay sauce is a classic French sauce named after the Duke of Mornay in the late 16th or early 17th century. The name itself is interesting, because Mornay is a mixture of melted cheese in a béchamel sauce, a cream sauce made from a roux. Béchamel sauce had not been invented when Mornay sauce was first made, however. As a result, it's commonly thought that some the original cheese sauce that was given this name was probably a bit different, but that it was later improved upon by mixing cheese with béchamel.
The classic Mornay sauce is composed of a mixture of Gruyere and Parmesan cheeses, usually in a half-and-half ratio to cooked béchamel. The cheese melts quickly, creating a savory sauce. The French may use it to top steamed vegetables, or on seafood and poultry dishes. It can also be mixed in with pasta to make a variant of macaroni or Alfredo. Some people use this sauce as part of the layers of lasagna.
Cooks can certainly change the cheeses they add to get different flavors in the end result. White cheddar is a common substitution, resulting in a sauce that can be used to make a very creamy macaroni and cheese dish. Children who are picky about vegetables may enjoy them more if they are topped with white cheddar sauce.
When making Mornay sauce, a chef must use hard or semi-hard cheeses. Cooks can get away with some jack cheeses, and also hard goat cheeses. Cheese like brie or blue cheese are not the best choices, and cream cheeses or fresh mozzarella won't melt the right way to give the sauce its creamy consistency. The French tend to avoid any but white cheeses when making this sauce, so cooks who want to keep it authentic shouldn't add orange or yellow cheddar. On the other hand, some children may be bigger fans of an orange colored cheese sauce than they are of a white sauce.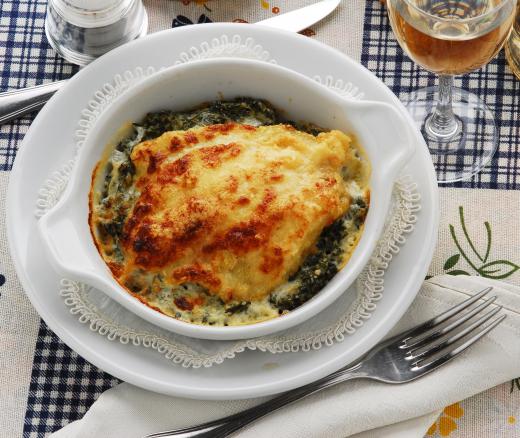 Mornay sauce is not low in fat — a butter roux mixed with cream or whole milk and whole milk cheese is going to pack some calories. Chefs can lighten the calorie load a bit by using a low fat milk to add to the roux, and by using good low fat cheeses. Some people may also want to try using a little bit less of the sauce than they might normally, too, since this will lessen the overall calories. Sauces in France are used as accents to meals but not meant to obscure the flavors of good, fresh food.
AS FEATURED ON:
AS FEATURED ON:








By: Monkey Business

Kids might eat more vegetables if a cheesy mornay sauce is on top of the dish.

By: Comugnero Silvana

Baked fish is often topped with a rich, creamy mornay sauce.

By: Studio Barcelona

Use hard cheeses such as Gruyere, Parmesan or white cheddar.

By: Lsantilli

Fontina cheese can be a good substitute for gruyere which is a key ingredient in mornay sauce.

Gruyere cheese, a classic ingredient in Mornay sauce.

By: Bert Folsom

Parmesan cheese is a key ingredient in Mornay sauce.

By: HandmadePictures

Mornay sauce can be used in creating a lasagna casserole.

By: Lucky Dragon

Mornay sauce typically begins as a basic bechamel.