Nishiki rice is a popular form of Japanese rice that is often called medium-grained rice. It actually falls into the class of short-grained rice but it is slightly longer than the average short-grained variants. In the US when you shop for Nishiki rice, which is grown mainly in California, you'll usually see it packaged as medium grain. In Japan and Korea, where the rice is very popular, packages may not even mention grain length.
The value of Nishiki rice in Japanese culture should not be underestimated. It can be used to make sticky rice, and it is often called the King of rice when it comes to making the alcoholic rice wine, sake. It's preferred to other variants of the grain because it tends to have a lower fat content. It may also be used to make sushi because the grains adhere well to each other.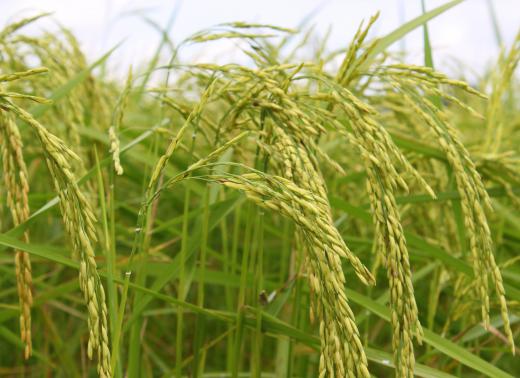 Processing of Nishiki rice is slightly different than other types of rice. A new technique for milling, munsenmai, mixes the rice with some water and heated tapioca. The tapioca pearls attach to the bran and then float to the surface of the water. When the rice is rinsed, the bran has been removed, and due to this process, Nishiki rice requires less water when you are cooking it and generally doesn't require pre-rinsing.
The ratio of rice to water is one and a half cups (.34 kg) rice to two cups (. 47 liters) water. Measurement for the rice when cooking is usually not by weight but by measuring cup. Just keep the one and a half to two ratio in mind because this differs significantly from many other rice cooking recipes.
Lovers of Nishiki rice describe the taste as light and fresh. It blends well with other flavors because it doesn't have a strong or dominant flavor. Brown rice variants will offer a slightly more complex taste, but very often the white rice version is easier to find. White rice is definitely preferred for sushi or sticky rice dishes. On the other hand, when sake is made, brown rice may be preferred because it yields more flavor, producing a more interesting sake.
If you have an Asian grocery store nearby, you probably won't have any trouble finding Nishiki rice. In urban areas with large populations of Japanese families, you may even find it in your local grocery store. When you are having trouble purchasing this rice locally, it is easy to find on a variety of Internet sites that sell Asian or international foods.
AS FEATURED ON:
AS FEATURED ON:








A nishiki rice plant.

By: airborne77

Brown nishiki rice.

By: Wouter Tolenaars

Nishiki rice may be used to make sushi.

By: BRAD

Nishiki rice is considered the best rice for sake.

By: GraphicHead

Measuring rice is usually done by dry measuring cups, not weight.