Pandebono is a type of South American roll or bagel prepared using two different types of flour and cheese. They are typically eaten a few minutes after coming out of the oven, though they can also be reheated, and are often enjoyed at breakfast or lunch with coffee or hot chocolate. There are a number of different stories as to the origin of the name, as well as where these rolls were first created and served. Pandebono can be quite quick and easy to make, and it is often available from South American bakeries or certain specialty bakeries in the US.
While it is typically agreed upon that pandebono originated in Colombia, there is a great deal of speculation and disagreement over its precise origin. One story holds that an Italian baker who had come to Colombia invented these rolls. It is said that he would sell the rolls by shouting "pane del buono," which means "good bread" in Italian, and which turned into "pandebono" through repetition. Other stories hold that it was first created by the owner of a small restaurant named Hacienda El Bono and the rolls were called pan del Bono or "bread from El Bono," which was eventually shortened to "pandebono."
Regardless of the precise origin of these rolls, they are typically prepared in a fairly simple manner. The pandebono begins with dough that consists of two types of flour, some cheese, one or two eggs, and sometimes a small amount of sugar. Tapioca flour, also called cassava or yucca starch, is used along with masarepa, or precooked cornstarch. Both of these flours may be difficult to find in some areas outside of South America, though specialty grocery stores may carry them.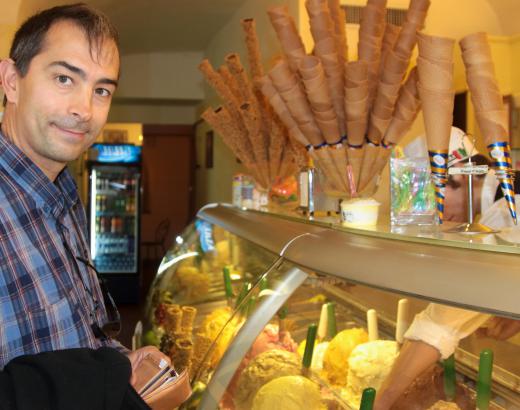 To this combination of flours is added eggs and cheese. The type of cheese used in pandebono often depends on the recipe and the region in which it is made. Some regions have local farmer's cheeses that work well, often due to a relatively high amount of saltiness, and Mexican cheese known as queso fresco is often used as well. If a cheese with a low salt content is used, then extra salt can be added to the dough to reach the proper level of saltiness. Once this dough is mixed sufficiently, it is then shaped into small rolls or rings, similar to a bagel, baked on a sheet pan, and served fresh from the oven.
AS FEATURED ON:
AS FEATURED ON:








By: osrodfe1

Queso fresco, which is used in pandebono.

By: Eléonore H

Pandebono can be quite quick and easy to make, and it is often available in specialty bakeries in the US.