In cooking, pectin is used as a thickening agent, and could be considered one of the most natural types around. The first version of this substance available for purchase was derived from apples, which have a high amount of it. There are other fruits that naturally contain this gelling agent, including many plums and pears. The properties of pectin were discovered and identified by the French chemist and pharmacist, Henri Braconnot, and his discovery soon led to many manufacturers making deals with makers of apple juice to obtain the remains of pressed apples (pomace) that were then produced in a liquid form.
Pectin is a complex carbohydrate, which is found both in the cell walls of plants, and between the cell walls, helping to regulate the flow of water in between cells and keeping them rigid. You'll note some plants begin to lose part of this complex carbohydrate as they age. Apples left out too long get soft and mushy as pectin diminishes.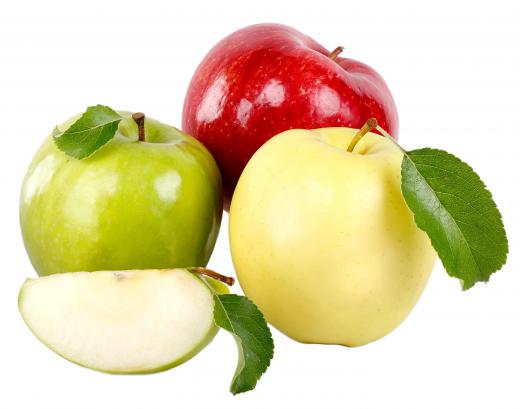 This is great news for people who are having extended trouble with irritable bowel syndrome or are getting over a bout of diarrhea because the presence of this substance in apples is considered some of nature's best medicine. Doctor's frequently prescribe the brat diet for patients with this condition (bananas, rice, applesauce and toast). Either whole apples or applesauce can help end these nasty stomach conditions by providing that extra thickening agent in the gut. In fact, one of the leading medications for this problem, Kaopectate®, used pectin as one its main "active" ingredients, though the ingredients changed in 2002.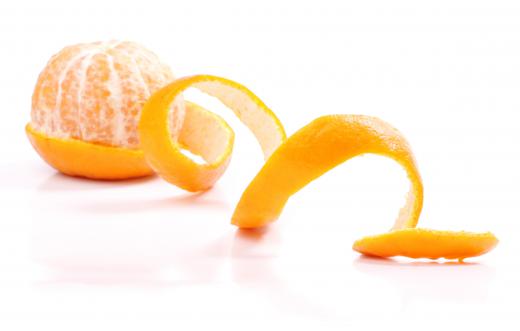 You will find this thickening agent in other medications. Luden's® uses it as a main ingredient in many of its cough drops. Cosmetic companies also make use of the ingredient, particularly when they're looking for natural or non-animal alternatives to bind substances together.
More often, though, you'll find pectin available in powdered form to be used when making jams and jellies. Today it may be made from apple pomace or from orange peels, and it's usually available in powdered rather than liquid form. It doesn't add flavor to the dishes you use it in, and it does work extremely well as a thickening agent. This complex carbohydrate is also used in a variety of commercially prepared foods to bind these foods together more effectively. You'll find it in products like yogurt, chocolate milk, and in a number of commercial baked goods.
AS FEATURED ON:
AS FEATURED ON:








By: tesgro

Firm, crisp apples are a good source of pectin.

Orange peel is often used to make pectin.

By: rimglow

Applesauce, which contains pectin.

By: Roman Ivaschenko

Pectin helps thicken jams and jellies.

By: Lana Langlois

Pears contain pectin.

By: creative soul

Pectin is often found in yogurt.

By: radomir54

Plums contain pectin.

By: shishiga

Pectin is a complex carbohydrate.