Peking sauce is used in Chinese cooking, most notably cooking from the region of Beijing. This sauce is sweet and a little bit spicy, often compared to barbecue sauce, since it is used with grilled and roasted foods. It is often made from a base of ingredients like vinegar, soy sauce or paste, and different spices. Many people eat it as a dipping sauce for various foods, use it as a marinade prior to cooking, or brush it onto food as it cooks.
Ingredients and Flavor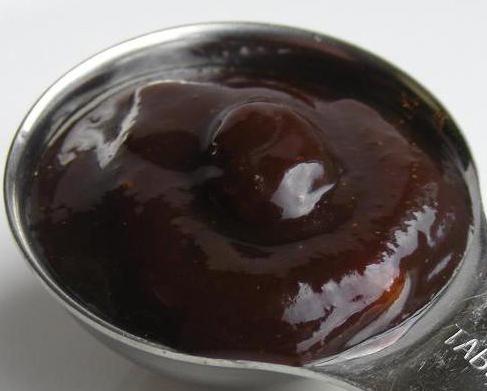 Although different cooks prefer their own recipes for Peking sauce, it usually includes chilies, garlic, and soybean paste or sauce, seasoned with vinegar, sugar, and various spices. Much like American barbecue sauce, the spices and flavors used in it can vary quite a bit, and many cooks pride themselves on their unique recipes. This sauce is naturally slightly salty and sweet, though it also has some characteristics of umami, the so-called "fifth taste," noted for a savory flavor.
Common Uses
Many people use Peking sauce to dip a variety of foods into, and in addition to being used with Peking duck, it can be added to stir fries and other dishes. One popular use of the sauce is as a seasoning for Chinese scallion pancakes, a popular food served alongside a variety of Chinese meat and vegetable dishes. In barbecuing, it can be applied as a marinade or glaze, used before or during grilling.
Origins and Different Types
Beijing was once written as "Peking" in English and its use can still be seen in the names of some notable dishes like "Peking duck," a food traditionally prepared with Peking sauce. People can refer to both hoisin sauce and tian mian jiang as Peking sauce in English, causing some confusion. These two sauces are quite similar, though they do have different flavors and are not identical.
Packaged and Homemade Varieties
Many grocery stores stock Peking sauce with other Chinese or Asian foods. Cooks who have access to soy sauce or fermented soybean paste can also mix up their own fresh sauce to taste. Freshly made sauces usually keep in a refrigerator for several days and may be frozen for future use. Much like barbecue or other homemade sauces, a wide variety of recipes are available for Peking sauce, with minor variations on ingredients or amounts of spices used.
Allergy and Health Concerns
One thing people should be aware of when buying Peking sauce is that it can include wheat, causing problems for people with gluten sensitivities or allergies. Wheat is often used as a filler in the preparation of fermented soybean foods, including soy sauce. In addition to cutting costs, it also adds a distinctive flavor. People with gluten concerns should check labels carefully and may want to seek out products specifically labeled as gluten free; it is usually safe for vegetarians, however, as it does not traditionally contain animal products.
How to Use Peking Duck Sauce
While it is named after the roasted duck dish it was originally created for, peking duck sauce is a condiment that can actually pair well with many different kinds of food. Traditionally used for a variety of Chinese dishes, it has a unique flavor that many people find delicious on vegetables and proteins.
Peking Duck
The classic pairing for this sauce is a whole roasting duck called peking duck. This is a historic Chinese dish that was originally served to nobility and featured during imperial meals. Today it remains a highlight of Chinese cuisine. The name "peking" is a historical spelling of Beijing that has stuck with the dish even as the spelling of the city's name has changed.
Peking duck is generally served whole and is revered for its crispy skin. The sauce is an important part of this dish, giving it the flavor people have come to know and love. There are many recipes out there that can be used to make your own peking duck, but because of the time and effort involved, many people choose to enjoy this dish at their favorite Chinese restaurant. The sauce on its own is much easier to prepare and can be made by home cooks of all skill levels.
Other Dishes to Use Peking Sauce With
Peking sauce works great as a pairing for duck, but it is also delicious on a wide variety of other foods. A pulled-pork-style dish with shredded meat drenched in the sauce is a common use. It can also be tossed together with stir-fried vegetables and served over rice. The uses are only truly limited by personal preference, and many people find that this sauce works well as a condiment for many different foods beyond those that it is traditionally associated with.
What Does Peking Sauce Taste Like?
Before you dive in and start using this sauce in your home kitchen or ordering it in resteraunts, you may want to know a bit more about what it tastes like. If you've never eaten duck before, you may be a bit hesitant, but the sauce is something that many people enjoy even if they don't eat duck. Regardless of whether you choose to use the sauce with duck or incorporate it into another dish, understanding the flavor profile will help you decide if it is a right fit, or if you need to add or remove any spices from the recipe.
Flavors to Expect
Peking duck sauce has a deliciously complex flavor made up of sweet, salty, and savory flavors. It is akin to the barbeque sauce often enjoyed in American-style dishes due to its tangy sweet taste that pairs especially well with meats. The saltiness and seasonings used mean that it is a convenient option for easily adding a lot of flavors. Different cooks prefer different levels of saltiness vs. sweetness and other alterations, so expect some variation when ordering this sauce at resteraunts or trying different recipes at home.
How to Eat Peking Duck Sauce
Peking duck sauce pairs especially well with a few items. One of these is green onions, or scallions, which are often served alongside peking duck and other dishes that use the sauce. Peking duck sauce can be incorporated into dishes, but it may also be poured over the top of finished meats or used as a dipping sauce. The dipping sauce is especially common with Chinese pancakes, a common accompaniment to duck and similar dishes.
What is Peking Duck Sauce Made Of?
Peking duck sauce is made from a base of garlic, chiles, and soybean paste. There are many varieties of soybean paste to choose from, and the variety used can make a subtle difference in the flavor of the end product. Vinegar and sugar are added to give the sauce it's sweet and tangy flavor. Other spices may be added as per the chef's preference. There are a few options for premade peking duck sauce that can be purchased which may have slightly different ingredients from product to product.
Allergen Concerns
If you are ordering Peking Duck at a restaurant, it is important to keep any food allergy-related concerns in mind. Almost every peking duck sauce contains some form of soy product. While nuts are not a featured ingrediant in most peking duck sauce recipes, it can be a good idea to check to make sure it wasn't prepared in a way where it could come into contact with nuts or other allergens. If you are making the sauce at home, you will likely have a lot more control over what goes into the sauce, and as it is a relatively simple recipe, there should be minimal concerns.
AS FEATURED ON:
AS FEATURED ON:








By: Robin

A spoonful of hoisin sauce, also known as Peking sauce.

By: Vasilius

Paste made from soybeans is an ingredient in most recipes for Peking sauce.

By: Fanfo

Peking duck is traditionally served with Peking sauce for dipping.

By: karandaev

Soy sauce is an ingredient commonly used to make Peking sauce.

By: Joshua Resnick

Peking sauce can be added to stir fries and other dishes.

By: MSPhotographic

Most recipes for Peking sauce call for garlic and chili peppers.