Italian cuisine is famous for its wide varieties of delicious sauces and types of pasta. Perciatelli is a hollow-thick strand pasta often used in hearty dishes. While the noodles are known as perciatelli in Naples, elsewhere they are more commonly known as bucatini.
Aside from its hollow interior, this long, dried pasta closely resembles thick spaghetti noodles. The texture of perciatelli noodles is similar to that of vermacelli noodles. The tubular pasta is made from a simple mixture of hard durum wheat flour and water. Bucatini noodles are generally 10 to 12 inches (25 to 30 centimeters) in length, and an eighth of an inch (three millimeters) in diameter. The noodles are most commonly served in Rome and throughout the rest of the Lazio region of Italy.
Perciatelli's name, bucatini, comes from its hollowed center, as buco translates to hole in Italian. The hole running down the center of each bucatini noodle resembles a thin drinking straw. The pasta is typically served with a tomato-based sauce. Sicilian chefs often prepare the noodles with a traditional favorite sardine and wild fennel sauce. The average time it takes for bucatini noodles to cook is nine minutes.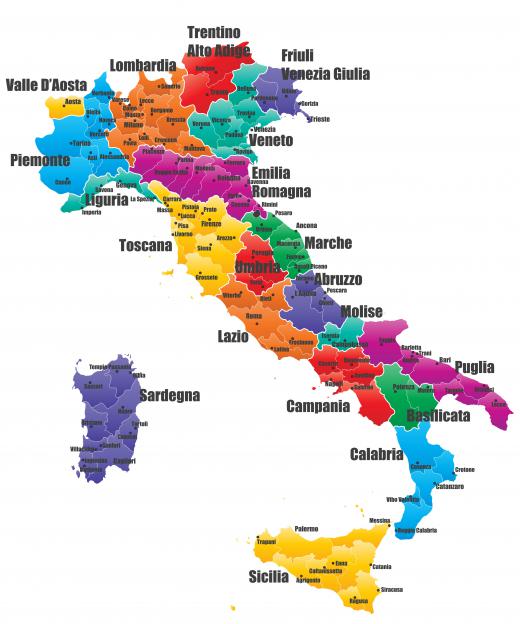 Semi-thick sauces are usually preferred with bucatini noodles, though many cooks simply butter them and add spices. If used with a simple butter dressing in Italian cuisine, perciatelli is often accompanied with fish such as anchovies or sardines. Vegetables, cheeses, pancetta, eggs, and guanciale may also be served with the pasta.
Casseroles, meat dishes, and other hearty entrees are commonly made with or accompanied by perciatelli. The noodles can also be broken into shorter lengths to be added into soups and other dishes, such as minestrone. In recipes that call for bucatini, noodles such as linguine, spaghetti, or fettuccine can usually be used as a replacement.
One of the most famous bucatini dishes found in Rome is the classic favorite, Bucatini alla Matriciana. This meal is made up of the hollow noodles and a spicy, light sauce. The sauce usually contains pancetta, grated Pecorino cheese, tomatoes, and red pepper. When served as a rigid dish, the pasta is known as bucatini rigati.
Bucatini all'Amatriciana is another famous country recipe featuring the pasta. A fast and simple recipe, it is one of the most famous dishes in Italian style cooking. Its sauce includes fresh tomatoes, bacon, onions, ewe's milk cheese, extra virgin olive oil, hot red pepper, and salt and pepper to taste.
AS FEATURED ON:
AS FEATURED ON:








By: nito

Sardines often accompany perciatelli.

By: willypd

Perciatelli are most commonly served in Rome and throughout the rest of the Lazio region of Italy.