Piyaz is a Turkish salad, or meze, that is made from a base of beans and hard-boiled eggs. The preparation of the cold bean dish is quite simple, and the result is a layered salad that serves as a very healthy snack or small meal. In countries outside of the Middle East, piyaz is also referred to as Turkish bean salad.
Turkish cuisine often includes a spread of different meze. Meze roughly translates to "taste" or "snack." They are usually served as small dishes designed to provide only a few bites. When eaten as a large meal, spreads of a dozen or so meze are prepared. Piyaz is a prominent type of meze, normally served either as part of a large meal or in smaller amounts when meze are used as appetizers.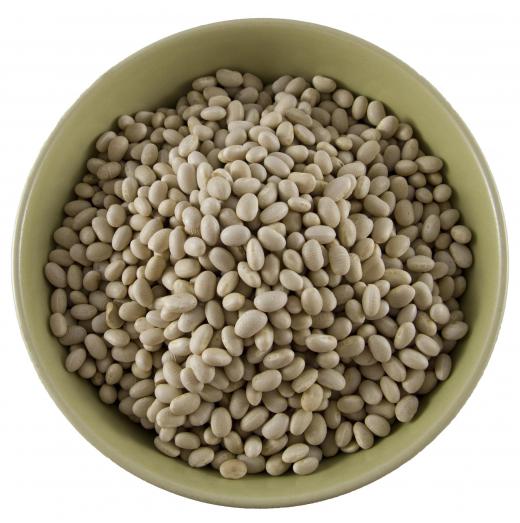 Piyaz can be made with any type of dried or canned beans. Commonly used varieties include navy beans, black eyed peas, and white beans. If the beans are dried, they are soaked overnight and sometimes boiled in order to ensure that they are soft enough to be used in a fresh salad. Beans make up the bottom layer of a traditional piyaz, and are topped by a layer of chopped hard-boiled eggs.
Variations exist for toppings for the bean and egg base. Most versions include ingredients such as tomatoes, onions, garlic, peppers, lemon juice, olive oil, and vinegar. The salad can be eaten immediately after preparation, but is sometimes stored overnight in the refrigerator to allow the flavors of the many ingredients to come together. It is common for a large quantity to be made so that some will be left over for subsequent meals.
Within Turkey, regional varieties of the dish exist. Parsley and sumac are always popular additions when the dish is served in Turkey. In Antalya, in the southern part of the country, sesame oil is often added to the piyaz and it is served primarily as a main course. Further to the east, in the Adana province, the dish known as piyaz is an onion and sumac salad without any beans or hard-boiled eggs at all.
In restaurants in Europe and North America, piyaz is considered a healthy salad that can be served on the side of a main course at a Turkish or Middle Eastern restaurant. White beans are most likely to be used. Depending on the establishment, varying simple yet distinctly Mediterranean flavors are featured.
AS FEATURED ON:
AS FEATURED ON:








By: BronxPhotog

Navy beans, which are often used to make piyaz.

By: Hyrma

Onions, which are used in making piyaz.

By: tfazevedo

Piyaz can be made with any type of beans.

By: Ruslan Olinchuk

Piyaz is also called Turkish bean salad throughout the Middle East.