As a sugar substitute that is derived from dextrose, polydextrose is a food ingredient that can be used as a low calorie substitute in many recipes. Originally developed in Europe, it is now available worldwide. Assigned an E number of E1200 in accordance with the International Numbering System, polydextrose is now found in packaged foods as well as being available for use around the house.
The basic contents of polydextrose revolve around three ingredients. Along with the use of a portion of dextrose, the food ingredient also contains sortibol and a small amount of citric acid. The low caloric content makes it attractive to dieters, while the low glucose content makes the substance an excellent choice of sweetener for persons who are in a prediabetic state. In addition, this artificial sweetener also contains a very low fat content, which makes it attractive to people who wish to watch their cholesterol levels.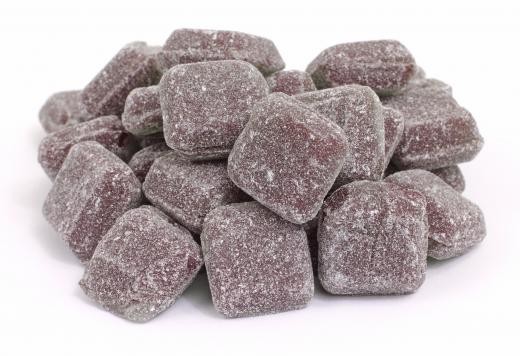 Approved for use in the United States in 1981, polydextrose can be found in a number of different types of low calorie sweets. Puddings and gelatins often contain the substance. A growing number of soft and hard candies make good use of the sugar substitute. Even frozen desserts are increasingly making use of it as a way of helping people to enjoy a tasty treat while still watching the sugar and fat content.
Along with packaged sweets, polydextrose can also be found in a number of salad dressings. The compound can also be used as a thickening agent, which helps to make it an excellent ingredient in home made puddings and dessert sauces. Because it is a good source of fiber, many people may choose to add a small amount to soups and stews.
Available under several name brands, polydextrose is a great option when watching carbohydrate intake, avoiding excess cholesterol, and lowering calories. There are several excellent cookbooks on the market that make good use of the sweetener in recipes that are designed for special dietary needs, especially diabetic and low-carb needs.
AS FEATURED ON:
AS FEATURED ON:








By: Bert Folsom

Polydextrose is a sugar substitute that can be used to make hard candies.

By: Gordan Jankulov

The majority of a diabetic's diet should be composed of unprocessed foods, although the occasional sugar substitute is OK for most people.

By: SunnyS

Polydextrose is a common ingredient in salad dressings.

By: blueringmedia

Polydextrose is a great option for avoiding excess cholesterol.

By: rkris

Diabetics must carefully regulate their sugar intake.