Poule au pot is a traditional French country recipe that literally translates in English to "chicken in a pot." It is the dish that France's Henry IV referred to when he declared that each working peasant should be able to have a chicken every Sunday under his leadership. To prepare poule au pot, a whole chicken is stuffed with a bread mixture and poached in a large cooking pot with seasoned broth and an assortment of vegetables.
The first step in preparing this one pot recipe is to make the bread crumb stuffing. Bread crumbs are placed into a bowl with milk and beaten eggs as well as some seasonings including salt and pepper. Once the stuffing is well blended, it's stuffed into the cavity of a washed and dried whole raw chicken. A piece of string is used to tie the legs on the chicken together so that the stuffing for the poule au pot won't fall out during cooking. At this point, the chicken may be placed into the refrigerator for a few hours before cooking.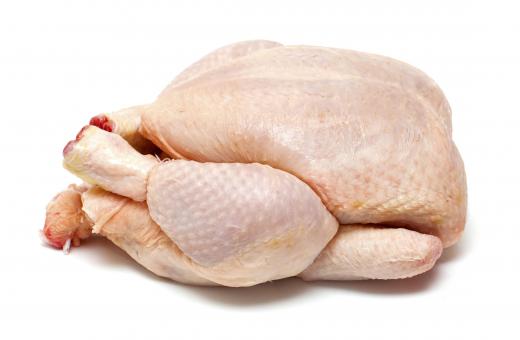 At cooking time, the stuffed chicken is added to a large pot along with broth and assorted fresh vegetables cut into chunks. While different combinations of vegetables may be used to make this poached chicken dish, onions, celery, carrots, potatoes and cabbage are common. Traditionally, the vegetables used were these types of hardy, yet quite inexpensive, varieties as the dish was supposed to be affordable enough for peasants to prepare and eat.
A bouquet garni, which is a bundle of different herbs such as parsley, bay leaf and thyme tied together with string, is added to the pot of chicken and broth. This mixture should be brought to a gentle boil and simmered on the stove for at least an hour before adding the vegetables. The poule au pot, complete with assorted vegetables sliced or cut into chunks, should be simmered until each type of vegetable is tender.
To serve the hot, satisfying family meal, the chicken is removed first from the cooking pot. It's usually placed into the center of a large platter. The cooked vegetables can then be scooped from the pot using a slotted spoon. The vegetables should circle the chicken. Grainy mustard and small pickles may be placed on top of the chicken to complete the finishing touches on the poule au pot.
AS FEATURED ON:
AS FEATURED ON:








By: Diana Taliun

A chicken, which is used to make poule au pot.

By: larcobasso

Poule au pot can be made using various combinations of fresh vegetables.