Punschkrapfen is a traditional pastry from Austria. Also known as punschkrapferl, it is a celebration of old world Austrian culture, and it is an unofficial national symbol in the form of a pastry. Traditionally, punschkrapfen contains apricot jelly and a generous filling of chocolate nougat, and then the entire pastry is soaked in rum or similar liquor. The pastry maker then coats the dessert in a thin, pink sugary glaze and cuts it into small squares. There is a saying in Vienna that punschkrapfen is a representation of the typical character of an Austrian: red outside, brown inside and always a little smashed.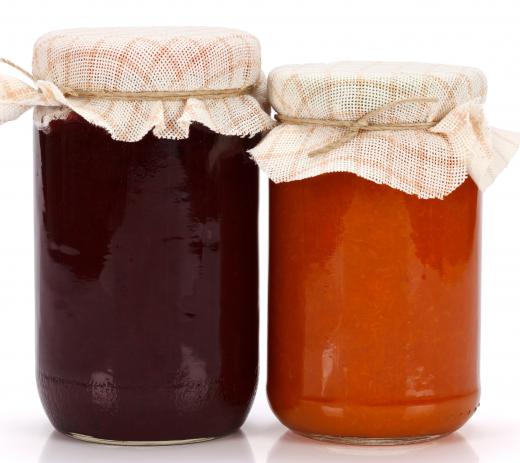 The exact history of punschkrapfen is sketchy at best. There are many legends surrounding the origin of this sweet dessert treat, including rumors of its introduction to Austrians following the Second Turkish Siege. Today, tourists can find punschkrapfen in every pastry shop and on almost every menu in Austria. In Austrian family homes, there are variations of the recipe, each with its own unique twist on this classic confection.
Punschkrapfen is similar to petit fours, which are French pastries that resemble tiny cakes. These two desserts are so similar, in fact, that unless a person bites into a piece of punschkrapfen, it might be mistaken for a petit four. A similar confection is a French fancy, a tiny pastry that is made of cubed sponge cake and topped with a generous helping of butter cream. A pastry maker coats a French fancy in icing just like the punschkrapfen, so they outwardly resemble one another very closely.
Buchteln is another type of Austrian pastry, and it is a sweet dumpling made of yeast dough. The cook prepares this dessert by filling it with jam just like the punschkrapfen, but the cook bakes buchteln with poppy seed paste or curd to make the dessert stick together. Many Austrian desserts are prepared with some type of jam or custard, but punschkrapfen is perhaps the most well known.


By: photocrew

Poppy seeds, which are used to make punschkrapfen.

By: Szasz-Fabian Erika

Punschkrapfen traditionally contains apricot jelly.

By: bogdanserban

Punschkrapfen is a traditional pastry from Austria.