Russian fudge is not actually Russian at all, but originated in Scotland and England. It is a chocolate-free fudge that relies mainly on sweetened condensed milk, butter, and golden syrup to achieve its smooth, fudgy consistency. A slightly harder, more sugary version — called tablet — omits the golden syrup. This version of Russian fudge has variations as far north as the Netherlands, which may be how this fudge got its name. Some cooks make a very simple version of Russian fudge, while others include liquor, nuts, and flavored extracts.
The flavoring in Russian fudge is typically golden syrup. True to its name, this honey-colored sweetener is simply a paler version of the popular United Kingdom treat known as treacle. Dark-colored treacle is unfiltered, leaving it with a deeper, slightly sharp flavor. Some bakers prefer golden syrup because it is light and sugary without any bitter aftertaste. Manufacturers make it by mixing acids with raw sugar and then straining the mixture to refine it and make it very pale.
Butter and sweetened condensed milk give Russian fudge its dense-yet-malleable texture. Recipes generally call for about 1 part each of butter, sweetened condensed milk, and ordinary milk. Most recipes recommend whole milk, but cooks may use milks containing as little as 1% milk fat. Skim milk is generally too thin to help the fudge come together properly, however, and may yield a relatively gooey confection.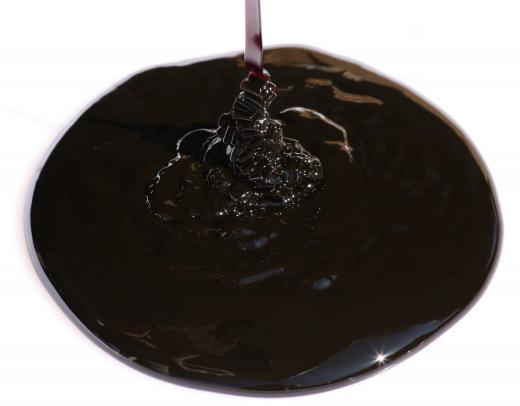 Recipes usually also require about 6 parts granulated sugar, 1/8 part golden syrup, and a capful of vanilla extract. The milk and sugar are usually warmed together over medium-low heat and stirred constantly until the sugar dissolves. Next the butter, syrup, extract, and both milks are added. As the cook stirs, the mixture should become very thick, like gravy or melted ice cream. Once thick, the Russian fudge is ready to be poured into a cake pan or brownie tin. Refrigerating the candy overnight typically yields thick fudge that easily holds its shape.
This is only the most basic recipe for Russian fudge. Many cooks also add about 1/8 part brandy, whiskey, or rum in varying flavors. Mild flavors, like apple, pear, and peach, often work well in this recipe. Individuals may also substitute the vanilla flavoring for any other flavorings they like, from orange and raspberry to cinnamon. Nuts may also make a tasty addition to Russian fudge. Chopped and toasted almonds and walnuts are both popular, as are pecans and Macadamia nuts.
AS FEATURED ON:
AS FEATURED ON:








By: stasura

Granulated sugar, which is used to make Russian fudge.

By: Kenton

Black treacle, which can be used to make Russian fudge.

By: Gresei

Many cooks add whiskey to the recipe for Russian fudge.

By: eAlisa

Russian fudge is often topped with pecans.

By: JJAVA

Toasted and chopped almonds can be added to Russian fudge.

By: kostrez

Many recipes for Russian fudge call for the addition of whole milk.