Shepherd's pie recipes were first developed in England in the mid-19th century. Recipes differ from traditional meat pies because they do not involve meat enclosed in a pastry crust. Instead, shepherd's pie consists of a layer of ground meat and a few vegetables topped with a creamy layer of mashed potatoes. The dish is baked until the top of the potatoes forms a golden-brown crust.
The first shepherd's pie recipes included ground lamb, a bit of onion, and perhaps some peas and carrots. The lamb produced some gravy as it was cooking. The result was almost an upside down version of potatoes with gravy. Shepherd's pie had more substance than simple mashed potatoes, though, because of the quantity of meat in the recipe.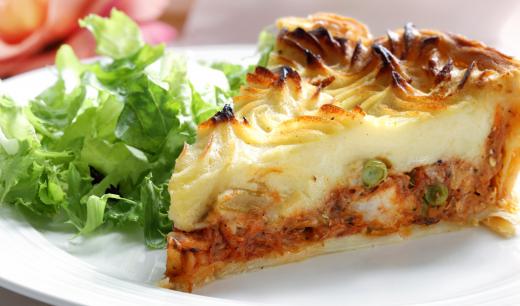 Other countries soon adopted shepherd's pie, and produced two variants. Instead of ground lamb, some recipes substituted ground beef. Though traditionally this variant is called cottage pie, most in the US recognize it as shepherd's pie. Less familiar in the US is the use of ground fish, which makes a dish correctly termed fisherman's pie.
Additional ingredients were added as shepherd's pie recipes evolved. A layer of cheese may top the potatoes. Canned tomatoes or tomato sauce can be added to make more gravy on the bottom of the dish. Some US recipes add a layer of corn or baked beans. Spice and herb selections vary. Though most recipes call for salt and pepper, others require the addition of basil, oregano, or nutmeg.
In most recipes for shepherd's pie, the ground meat is pan fried before layering it in the dish. Suggestions for preparing the mashed potatoes include adding either milk or egg whites to lighten the potatoes. This prevents the potatoes from crushing the meat layer of the dish.
Traditional shepherd's pie and cottage pie are usually baked for about 30 minutes in the oven to achieve the crisp top on the potatoes. One variant that can cut down on cooking time is a recipe by Rachel Ray, well-known chef and celebrity. She suggests broiling the shepherd's pie for 6-8 minutes to achieve the crispy top layer.
Some are familiar with shepherd's pie as a leftover dish. Instead of using ground meat, scraps of roast beef, a little gravy, and mashed potatoes can be used to prepare the dish. This version is an excellent way to deal with leftover roast beef and potatoes. Turkey, turkey gravy, and mashed potatoes could be substituted, or one might use leftover lamb and mashed potatoes. Also, Swiss steak can be reinvented the next night as a form of shepherd's pie. When the meat is precooked, gravy or stock must be added so the dish remains moist.
AS FEATURED ON:
AS FEATURED ON:








By: robynmac

A slice of shepherd's pie.

By: sevenk

Shepherd's pie often includes peas and other vegetables.

By: robynmac

Roast beef may be used to create shepherd's pie.

By: Taiga

Some people season their shepherd's pie with oregano and other herbs.

By: James Martin

Shepherd's pie is usually topped with creamy mashed potatoes.

By: Stephanie Frey

One version of a shepherd's pie uses leftover turkey and turkey gravy.