What Is Smoked Pork Shoulder?
A smoked pork shoulder is the front leg and shoulder of a hog that has been smoked. It commonly contains three key pieces of pork: the Boston butt, the picnic and the pork hock. The meat is typically smoked with either hickory, apple or cherry wood, however, oak, maple and other types of wood can also be used. The bottom end of the pork shoulder contains the picnic ham, which is usually covered with some fat and skin and commonly contains the round leg bone, or femur.
The smoked pork shoulder is a cut of meat containing both the shoulder blade as well as the femur bone, and is used for roasting and is the most common type of cut used to create pulled-pork. The cut is commonly divided into two pieces of meat: the Boston butt, which is the top piece of the leg containing the shoulder blade bone, and the picnic, which is the bottom piece of the leg. The picnic is also covered in fat and commonly covered with skin about halfway up. The skin can be cut or scored to produce crispy crackling as the meat is cooked.
While either piece of the smoked pork shoulder can be used for pulled pork, the Boston butt is the most commonly eaten for this type of meat. The blade bone adds a sweet flavor to the meat nearest the bone, while the piece of meat contains enough fat to maintain moisture while the cut cooks and also prevents drying. The pork shoulder is typically smoked over hardwood, such as apple, for no less than six hours at a low heat. The meat is often cooked for 15 hours to get the most flavor from the smoke, bone and meat combination.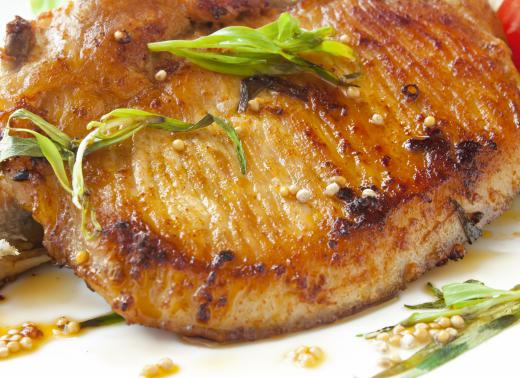 After cooking, the smoked pork shoulder is allowed to rest for up to three hours to reabsorb and redistribute the natural juices of the pork to all parts of the shoulder. Once rested, the meat is pulled from the roast in small pieces using either two dinner forks or by hand. The meat pulled from the smoked pork shoulder is placed into a bowl or container and is used for making pulled-pork sandwiches and other dishes that feature the pulled-pork type of meat. The meat is commonly served with a sauce of the cook's choice, which typically contains either barbecue seasoning, hot pepper or honey.
AS FEATURED ON:
AS FEATURED ON:








By: Eric Isselée

Smoked pork shoulders use the front leg and shoulder of a hog.

By: marrakeshh

Pork is high in protein and B vitamins, but also high in fat and saturated fat.