Soju is an ancient form of clear alcohol distilled from rice and other grains. It was first made in the 1300s in Korea during the Mongolian occupation. It remains a popular drink, particularly in South Korea, and is sometimes mistakenly called rice wine. In fact, it is quite different from rice wine or sake, since it is not made solely from rice and has a much higher alcohol content, about 20-35% alcohol.
Some compare the taste of soju to vodka, though it tends to have a sweeter finish. The sweetness may come not only from the rice but the addition of grains like wheat, barley and tapioca. Soju is usually also sweetened with sugar during the distillation process.
In Korea, soju is served in small shot glasses, or can be used to make mixed drinks. Mixing it with lemon-lime sodas is particularly popular among younger Koreans. When consumed in the traditional manner, Koreans have very specific ways of serving and drinking the beverage, and appreciate foreigners who follow these customs.
A few of these rules include never pouring your own glass of soju, and never refilling a shot glass with more until it is completely empty. Respect for elders when drinking soju is demonstrated by younger people turning away from their elders to drink from their filled glasses, and holding the glass with two hands if a person of superior stature is pouring it. Drinkers have the option of either sipping soju or taking it in a single shot. Either form is considered polite.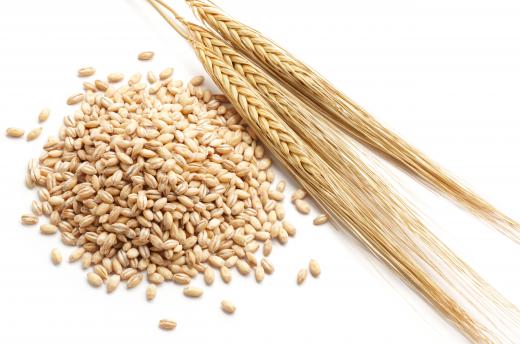 The largest manufacturer of soju is the company Jinro. Doosan is another popular Korean brand. The drink is very popular, with several billion bottles consumed yearly. A form has also migrated to Japan, where it is called hochu. Koreans, like the Japanese, also are fans of sake, which is known as cheongju.
In South Korea, soju is one of the least expensive types of alcohol to buy, partly accounting for its popularity. It also has a lengthy history in the Korean culture, and is especially associated with gatherings of friends. Typically, it is consumed in group settings.
AS FEATURED ON:
AS FEATURED ON:








By: SeanPavonePhoto

Soju is an alcoholic drink that is popular in South Korea.

By: Okea

Barley is an ingredient in soju that gives the drink its sweetness.

By: bokan

Soju is commonly associated with a gathering of friends.

By: Dangubic

Excessive consumption of alcohol, such as soju, may lead to high blood pressure.