What is Some Traditional Mexican Food for Christmas?
Some of the Mexican Christmas food choices are favorites at any time of the year, while others are identified as traditional Christmas food that is rarely, if ever, served during the rest of the year. People who eat traditional Mexican food for Christmas may enjoy tamales, buñuelos, bacalao a la vizcaina, romeritos and rosca de Reyes.
Rather than the observance of one or two days, the traditional Mexican approach to Christmas involves almost three weeks of community and family events. Kicking off the celebration is the observance of posadas. Essentially, posadas honors the journey of Joseph and Mary to Bethlehem and their search for lodgings. Each evening of the observance, neighborhood residents make their way to a designated home, where they seek food and hospitality. There is singing, readings and celebration. A piñata, filled with Christmas sweets, is broken, and everyone enjoys tamales, sweet fritters called buñuelos, and a hot chocolate drink that is called chocolate caliente. For adults who want something with a little more kick, there is ponche con piquete, a hot punch this is made of blends of seasonal fruits and a shot of wine or spirits, served with a cinnamon stick.
A traditional Mexican food for Christmas Eve is a dish known as bacalao a la vizcaina. This colorful and eclectic dish includes salted cod that has been dried, potatoes, tomatoes, onions, olives, capers and bright red bell peppers. Often served with a selection of fruits and both alcoholic and non-alcoholic drinks, the dish is usually made in large quantities. This is because families tend to open their doors to others on Christmas Eve, especially those with no family in the area. With a focus on being together and celebrating the birth of Jesus, hospitality dictates that there be plenty to eat and drink.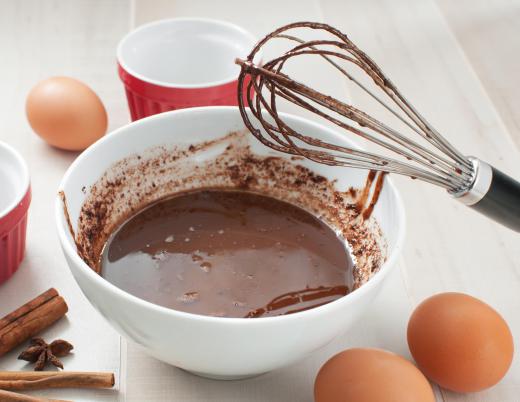 For Christmas Day, romeritos are not uncommon. They are composed of such ingredients as dried shrimp and potatoes, and colorful red, yellow, and green bell peppers may be added to the mixture if desired. The ingredients are seasoned with a spice that is also called romerito, which is somewhat similar to rosemary. The mixture is cooked in what is known as mole sauce, which is made with garlic, onions, chocolate, sugar, nuts, chili peppers, olive oil, and small amounts of toasted bread. Dishes as shrimp croquettes may also be served, with the mole sauce used as an accompaniment. Traditional Mexican foods tend to rely heavily on what is readily available, and often makes use of combinations that may seem unusual to persons from other culture.
At the end of the Christmas season on 6 January, a traditional food that's often served is the sweet dish of rosca de Reyes. Essentially a bread that is shaped into the form of a Christmas wreath, it's often sweetened with spices, and includes small figurines of Jesus baked into the loaf. Usually, there is a glaze or sauce that is added to the top of the bread. Rosca de Reyes is only made during the first days of January and is considered to be a final offering to the Christ child during the season.
AS FEATURED ON:
AS FEATURED ON:








By: dreambigphotos

Tamales.

By: razmarinka

A rich Oaxacan mole sauce can be made with Mexican chocolate and cinnamon.

By: lunamarina

A pinata filled with Christmas treats will be broken open.

By: Natika

Red bell peppers are an ingredient in several traditional Mexican foods served at Christmas.

By: Giuseppe Porzani

Chili peppers are a key ingredient in many Mexican dishes.

By: bst2012

At Christmas, a piñata filled with Christmas sweets may be broken open and enjoyed.