Spam musubi is a popular treat in the American state of Hawaii, where it has become a bit of a cultural icon. For mainlanders, Spam musubi may seem a bit mysterious, since the star ingredient is Spam, a processed meat product which meets with derision in many parts of the world. For Hawaiians, however, Spam musubi references the rich cultural history of Hawaii, integrating the regional love for Spam and Hawaii's Japanese influences in one dish which can be found on every Hawaiian island, from convenience stores to gourmet restaurants.
Before delving into the specifics of the Spam musubi, it may help to explain the cult of Spam in Hawaii. Hawaii, after all, hosts an annual Spam festival, and the Islanders take their Spam very seriously. Spam became widespread in Hawaii during the Second World War, when an influx of soldiers introduced Hawaiians to the canned meat product, as fresh meat was rather scarce. Hawaiians acquired a taste for Spam, pairing it with other regional specialties, and it worked its way into the hearts of many Hawaiians.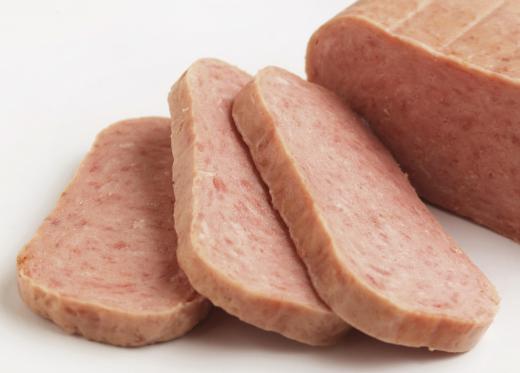 The Spam musubi is based on a Japanese dish which is also known as musubi or onigiri. Onigiri is made by compressing salted rice into a block, mounting a piece of raw fish on top, and then wrapping the assemblage in nori to make it into a neat packet. Onigiri is technically not sushi, because the rice is not seasoned with vinegar, but it is a popular offering in sushi restaurants, and it is a very common food in Hawaii, thanks to the big Japanese population.
To make Spam musubi, cooks compress a block of rice and then add a piece of Spam which is often fried or baked to bring out the flavor, before wrapping the musubi in nori and serving it. Flavored Spam may be used, along with a fried egg, and sometimes Japanese seasoning or teriyaki sauce is added to the mix. Many Hawaiians use a musubi press, which is designed to compact the rice to the necessary density.
This Hawaiian snack food can literally be found everywhere. Some adventurous mainlanders try a piece of Spam musubi when they visit Hawaii to get a taste of local culture; they may also try an assortment of other dishes which include Spam. Spam musubi has also achieved gourmet status, showing up in some very classy Hawaiian restaurants as a cornerstone of Hawaiian cuisine.
AS FEATURED ON:
AS FEATURED ON:








By: sasaken

Spam is the main ingredient in spam musubi.

By: Galyna Andrushko

Spam musubi is popular in Hawaii.