What Is Thai Cashew Chicken?
Thai cashew chicken is a culinary dish that reflects traditional Thai cuisine and is made with chunks of white meat chicken along with plump, toasted cashews. The dish combines sweet and spicy flavors and is typically made in a wok using the stir fry method of cooking. Certain vegetables are usually included with the chicken and cashews, and fish or oyster sauce is generally added as well.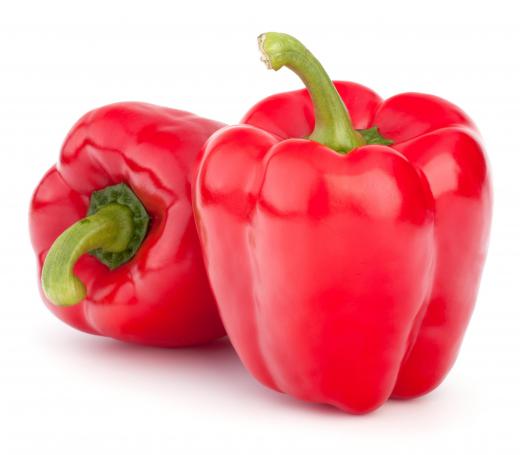 Thai cuisine originated in Thailand. Particular styles and recipes vary depending upon the region in Thailand that they come from, but the overall goal of Thai cooking is to create harmonious flavor combinations of sweet, spicy, salty and sour. Generally, Thai cooking involves the use of several aromatic spices, including ginger, cumin and garlic. Many Thai dishes also tend toward the spicy side, relying on dried chili peppers and other such spices to add a degree of heat to the dish.
Cashews are a rich, mildly sweet tree nut. They are a popular nut in Thailand and surrounding regions, and are often used in Thai cooking. The cashew actually grows on the base of a fruit called a cashew apple fruit. When making Thai cashew chicken, it is best to use fresh roasted, unsalted cashews.
The chicken used in Thai cashew chicken is generally boneless white meat from the breast of the chicken. It is usually cubed, or otherwise cut up into bite size pieces, another characteristic of Thai cooking. Sometimes, the chicken is marinated beforehand to give the dish additional flavor.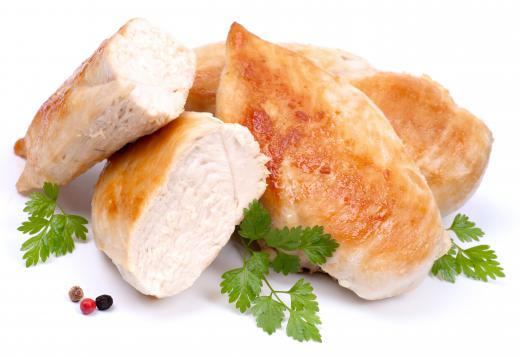 Chili peppers are usually added to give this particular dish its classic Thai heat. Brown sugar is typically included as well to contrast the heat of the peppers and the other tangy spices. Certain vegetables are traditionally added to Thai cashew chicken, which include red or green bell peppers, onions and scallions. Other vegetables, such as mushrooms, broccoli and celery are sometimes added, but including too many varieties of vegetables could undo the delicate flavor balance of the dish that makes it so classically Thai in nature.
One of the primary ingredients in traditional Thai cashew chicken is fish or oyster sauce. The fish or oyster sauce gives the dish a salty, slightly pungent flavor. This also contrasts well with the sweet and spicy flavors of the dish.
All the ingredients are typically stir-fried in a wok using only a small amount of oil. This process of stir-frying locks in the flavors of all the ingredients so that each one maintains its own identity as it blends with the other flavors. When made correctly, Thai cashew chicken is a culinary dish bursting with contrasting flavors, and is an absolute delight to the palette.


By: Shariff Che'Lah

Cashews.

By: Natika

Red bell peppers are a typical ingredient in Thai cashew chicken.

By: Giuseppe Porzani

Chili peppers may be used to add heat to cashew chicken.

By: Christian Jung

Chicken breasts are typically used to make Thai cashew chicken.

By: WimL

With its high smoking point and mild flavor, peanut oil is ideal for making Thai cashew chicken.