What is the Best Way to Boil Water?
The best way to boil water typically depends on the application the boiling water is intended for, and what equipment is available to someone trying to boil the water. For example, for cooking pasta, potatoes, and hard-boiling eggs, a large pot of water set over a burner of some type is typically best. If someone wants to make tea, coffee, or a similar hot beverage, then a specific device such as a kettle or electric kettle usually works best. For applications that require water to be boiled in a fairly small quantity for quick use, then a microwave is often the best way to boil water quickly and easily.
Applications that call for large quantities of boiling water, such as what is needed for cooking dried pasta or boiling a number of raw eggs, typically work best with a large pot on a stovetop burner. A wide, deep pot is usually best for this use, and one made from aluminum and stainless steel can provide a pot that is durable and can effectively boil water. This type of pot can be used to boil water for potatoes, eggs, pasta, and anything else that needs a decent amount of room and water volume to cook properly.
A kettle or electric kettle can also be an excellent way to quickly and effectively boil water for certain applications. Someone trying to make a cup of hot tea or hot chocolate will usually use a kettle for boiling water. The kettle is filled with water then placed upon a heat source such as a stovetop. Most kettles are designed to be easily pourable through a spout, and many are made in a way that can let the user know the water has come to a boil through a steam whistle or similar method. An electric kettle is a small pot that holds water and plugs into an outlet, then generates energy and heat to boil water without the need of a stovetop.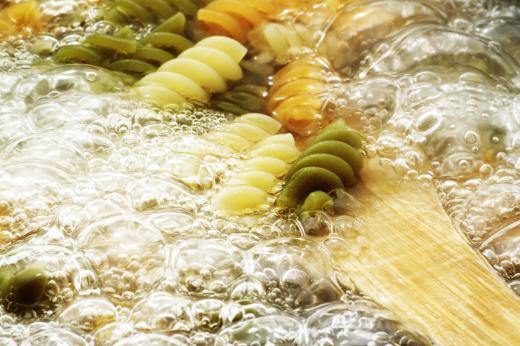 Sometimes these methods for boiling water are unnecessary or inconvenient, and in this type of situation a microwave can often be used quite well. To boil water in a microwave, a user simply needs to fill a microwave safe container with water, place it in the microwave, and set it to boil. Some microwaves will have preset boiling features, while others may require some effort to determine the amount of time necessary for boiling. Care should be taken, however, since some cases have been reported of water boiled in a microwave carrying over energy when removed from the microwave and erupting in an explosive torrent of boiling water. To avoid this potential though unlikely danger, a microwave safe object such as a wooden stick can be placed in the water during microwaving.
AS FEATURED ON:
AS FEATURED ON:








By: roblan

Water can be boiled in a large pot.

By: isrgil

Pasta is typically boiled on a stovetop burner.

By: nikkytok

A kettle is an excellent way to quickly boil water.

By: jokerpro

A gas range may take longer to boil water than an electric range, but the temperature is easier to control.

By: creativenature.nl

Boiling water for a cup of tea or cocoa is best done in a kettle on the stove.