Truffle butter is butter that has been infused with tiny pieces of truffles, the fruiting bodies of fungi in the genus Tuber. Many people associate it with French cuisine, where it plays a very large role, but it also appears in foods from other parts of Europe, especially Italy. There's nothing stopping any cook from using this butter anywhere he or she pleases. This gourmet item is available at some markets and specialty stores, and can also be made at home, assuming that the cook has access to truffles and high quality butter.
Truffles have been prized by humans for centuries. They have a distinctive heady aroma and a rich, earthy, nutty flavor that complements a wide range of foods. Most truffles are found in close association with trees, and harvesters need to carefully dig for them, as they grow underground. In some regions, animals such as pigs and dogs have been trained to root for truffles, simplifying the harvest process.
To make truffle butter, cooks ideally use a high quality creamery butter that is as fresh as possible. They carefully wash and brush one or more truffles to remove residual dirt, and then chop it into very fine pieces. The pieces are blended into the butter, along with any juice that they have secreted, and then the butter is chilled. Typically, the resulting product is quite strong, with an intense flavor that requires careful use so that it does not become overwhelming.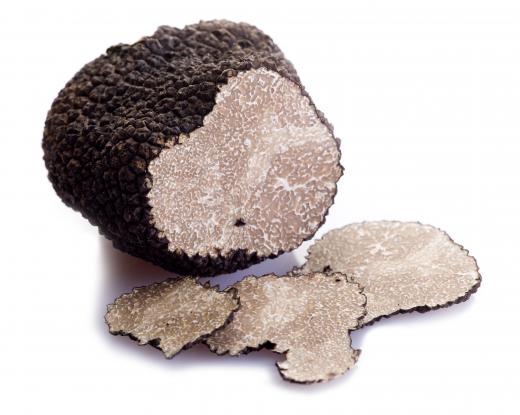 There are a number of ways to use truffle butter. Some use it as the base for sauces, for example, or as a basting material on roasting meats. It can also be used to prepare things like omelets, or it can be served on the side with a dish as a garnish. It is also possible to use the butter in things like mashed potatoes; basically, it can be used in any savory dish that calls for butter.
Truffle butter may be available in some stores labeled as containing "white" or "black" truffles. These are simply different species within the truffle genus, each with distinct flavors. White truffles grow primarily in Italy, while black truffles are found in the Perigord region of France, and they are very famous. It is also possible to find summer truffles, which are classically white. Different truffles are available at different times of the year; black truffles, for example, taste the best in January, while summer truffles are available in the summer through the early fall, depending on the region.
AS FEATURED ON:
AS FEATURED ON:








By: robynmac

Steak with truffle butter and fries.

A sliced black truffle.

By: Elena Schweitzer

Butter.

By: Anatolii

Pigs are trained to root for truffles in some places.