What Is Unsulphured Molasses?
Unsulphured molasses is a type of molasses that has not been treated with sulphur dioxide. Sulphur dioxide is a preservative that is sometimes added to molasses. Molasses comes in three grades — mild, dark, and blackstrap. All three grades are available as sulphured or unsulphured. The presence of sulphur dioxide in the molasses does not affect its use in cooking or baking.
Molasses is produced during the processing of sugar cane. The sugar cane is mashed to extract juice from the pulp, and the juice is then heated to separate out the natural sugars. The juice remaining after the first heating and removal of sugar is a light, mild molasses. If the remaining juice is heated a second time, the liquid that remains after the second removal of sugar is dark molasses. Blackstrap molasses is formed after the third cycle of heating and removing sugar from the sugar cane juice.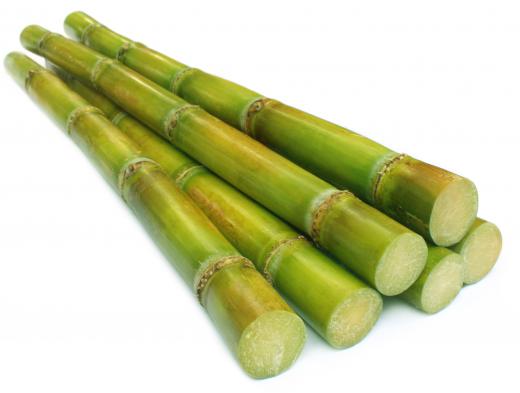 Mature, ripe sugar cane produces molasses with the highest sugar content. Unsulphured molasses is made from this older sugar cane. The high sugar content of this type of molasses acts as a natural preservative. Molasses produced from young sugar cane has a lower sugar content. Sulphur dioxide is added to molasses produced from young sugar cane to act as a preservative and help prevent spoilage.
Many foods containing fruit products contain sulphur dioxide as a preservative. This preservative is also found in many wines. Sulphur dioxide is considered a safe additive for most people. Some people, however, are allergic to sulfites in any form and can have serious or life-threatening reactions with exposure to sulphur dioxide. People that are sensitive to sulfites should use unsulphured molasses rather than the sulphured form.
Sulphured and unsulphured molasses are interchangeable in cooking and baking. Both types of molasses add a distinct, sweet taste to many foods. All three grades of molasses contain important nutrients, but blackstrap molasses contains significant amounts. It contains calcium, magnesium, and potassium. Blackstrap molasses also contains manganese, iron, and copper and is sometimes sold as a health supplement.
Molasses is also produced from sugar beets. This type of molasses is not treated with sulphur dioxide. Sugar beet molasses may contain additional ingredients that are added during processing, making it a less pure form of molasses. There is a difference in taste of sugar beet molasses compared to molasses made from sugar cane. Beet molasses is usually used as an additive in animal feed.
AS FEATURED ON:
AS FEATURED ON:








Sugar cane is used in making molasses.

By: grafismail

Molasses being poured from a spoon.

By: Calgary Reviews

Molasses cookie.

By: Luis Carlos Jiménez

Molasses can be produced from sugar beets.