What is Vinaigrette Dressing?
Vinaigrette dressing can be simple to complex depending upon recipes. Generally the simplest forms of this dressing, which can be used as a marinade or to top a variety of salads, are a combination of oil and vinegar. Other common ingredients for the basic vinaigrette include salt and pepper, and a number of different herbs, which depend on preference or recipe. It is really easy to make simple vinaigrettes, and those who favor "Italian style" dressing may wonder why they bothered with buying bottled versions after making their own dressing at home.
There are some advantages to commercially made forms of vinaigrette dressing. They usually contain ingredients that help keep the oil and vinegar from separating. This is a problem with most dressing that contains these two ingredients. Oil and vinegar don't mix well, and common vinaigrettes made at home may address this by using a few natural emulsifying ingredients. A common one is mustard, especially the Dijon type, which will help hold the vinaigrette together.
An emulsifier may be unnecessary if the vinaigrette dressing is going to be used immediately. If it's mixed and added to the salad right away, it may have little time to separate. This is especially true if a salad will be served right after it is dressed.
One of the reasons that people may prefer to make homemade vinaigrette, and use an emulsifier or not, is that quality and type of oil used can be carefully chosen. Many commercial brands use a blend of oils, or may mask inferior oils with heavier vinegar tastes and other seasonings. Vinaigrette dressing made at home can clearly be made of oils and vinegar specially chosen by the cook, which can cut down on fats in the dressing. Some of the best vinaigrettes made at home employ olive oil, one of the healthier oils that may actually lower bad cholesterol levels.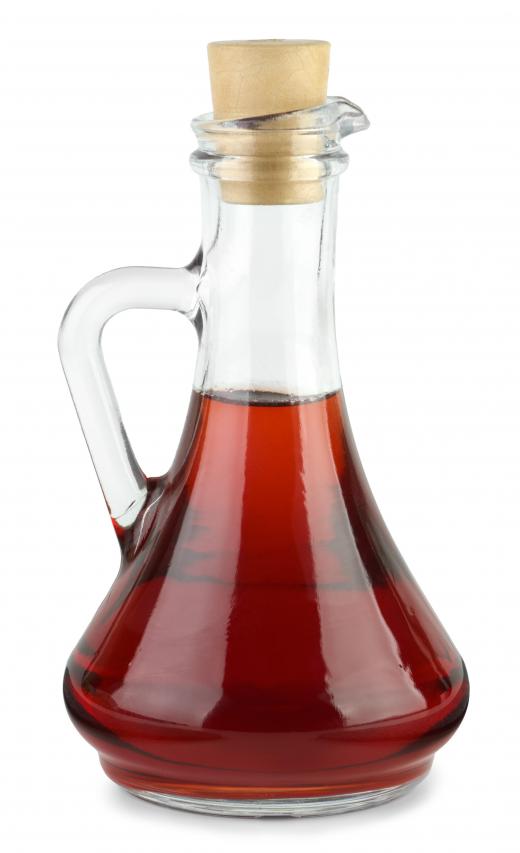 Choice of vinegar can really change the profile of dressings. While many people choose apple cider or red wine vinegar, a heartier dressing will result by using balsamic vinegar. This is only the starting point though. There are wonderful vinegars made from raspberries, which can completely change the taste of vinaigrette dressing. Alternately, people can choose a much lighter acidic taste by using rice wine vinegar. It's worthwhile to explore the different types of vinegar available, to make subtle or huge differences to the average vinaigrette dressing.
Other ways to change vinaigrettes is by adding spices or additional seasonings. The types of spices used can be as simple as a bit of chopped parsley, or they can be a complex blend of a variety of spices and herbs. Other additions that can be added to such dressings include Parmesan cheese or chopped anchovies. Each addition will add its own flavor.
AS FEATURED ON:
AS FEATURED ON:








Containers of olive oil.

By: Roman Ivaschenko

Red wine vinegar, which can be used to make a vinaigrette dressing.

By: Elenathewise

Parmesan cheese can be used to flavor a vinaigrette dressing.

By: Barbara Pheby

Vinaigrette dressings can be spiced up with herbs such as parsley.

By: Silken Photography

Bruschetta salad tossed with fresh basil and a tangy vinaigrette.

By: valery121283

Vinaigrette dressings are versatile and can be used to marinate meat or dress a salad.