Yakitori is the Japanese version of shish kebab. In particular, it is a skewered chicken dish that is cooked over a barbecue. The chicken is cut up into bite-sized pieces, skewered on metal or bamboo rods, and cooked over a flaming bed of charcoal. Much like other types of barbecue, yakitori is made with a distinct sauce. The sauce is called tare sauce and is made with soy sauce, sugar, sake, and mirin. Sake and mirin are both kinds of Japanese rice wine but differ in terms of their alcohol content.
Once the chicken has been dressed with the sauce, it is cooked over the charcoals until it becomes quite tender. Sometimes yakitori is simply dressed with salt instead of the tare sauce, but this is less common. Although all yakitori is made with chicken, there are many variations on the dish that use different kinds of chicken parts. Toriniku, for example, is a variation in which only pieces of white meat are served. Tebasaki is a variation made with chicken wings.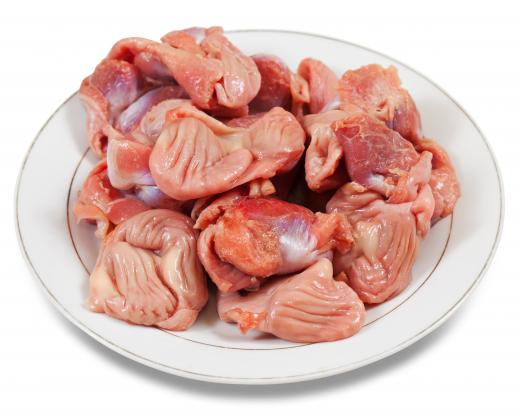 This kind of Japanese barbecue also makes use of the organ meats found in a chicken. When the dish is made with chicken hearts it is called hatsu. When it is made with gizzards, it is called sunagimo or zuri. Skewered and barbecued chicken liver is called reba. When the dish is made with the small intestines of the chicken it is called shiro. There are a number of other variations as well that use other parts of the chicken such as the skin, the tail, and the cartilage.
In addition to these chicken dishes, there are also kinds of Japanese skewered barbecue that use meats from other animals. These non-poultry dishes are referred to as kushiyaki. They used meats from pigs and oxen, and sometimes feature vegetarian proteins such as tofu as well as vegetables. Enoki maki is a kind of kushiyaki that is made with mushrooms that are wrapped in thin slices of pork, dressed with a sauce, and then barbecued. Asuparabekon is a kind of kushiyaki that is made with asparagus and bacon.
Many restaurants that serve yakitori also serve kushiyaki and the dishes can be enjoyed together during the same meal. They can also be enjoyed with other Japanese dishes such as sushi and udon. All of these dishes are accompanied well with a good bottle of sake, which can be served chilled or warmed.
AS FEATURED ON:
AS FEATURED ON:








Yakitori can be made with chicken gizzards.

By: Lovelli

Enoki maki is a skewered dish made with mushrooms and pork, similar to yakitori.

By: BRAD

Sake is used in the sauce for yakitori.