Where does Sugar Come from?
Sugar can be made from two main sources, either sugar cane or sugar beets. Its history of introduction into Western Europe is traced back to the early growth of sugar cane prior to the 6th century B.C.E. in Polynesia. The plant is thought to have then been grown in India in the beginning of the 5th century B.C.E, where Emperor Darius of Persia discovered it and spread it throughout the Arabic world.
Europeans didn't discover sugar until the Crusades brought them into contact with Arabic culture. They referred to it as the new "spice," and its use was primarily restricted to the extremely wealthy. A pound (0.45 kg) of sugar was prohibitively expensive for most people.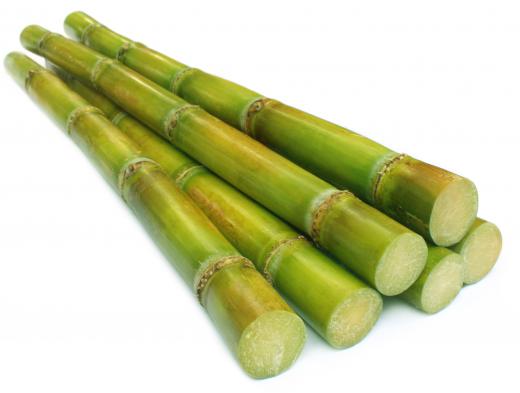 Early sugar from the cane went through a refining process in Italy, and when Columbus left on his travels, he reportedly took the plants with him, which were then established in the Caribbean. The climate of Caribbean islands lent itself perfectly to the plant's growth, since it is best grown in tropic or near tropic temperatures. This increase in the ability to grow lots of sugar cane gradually led to the establishment of plantations throughout the Caribbean.
Britain had established over 100 sugar refineries by the 18th century, yet sugar remained expensive. Even with this high number of refineries, it was still difficult to get, and the British government placed very high taxes on it. It would take about 100 more years before sugar would be available to the common man, who still primarily used honey as sweetener.
At the same time, sugar was made more available by the introduction of the sugar beet. Much of what was available in Europe by the late 19th century was from beet and not cane. Today, only about 30% of the world's sugar is made from beets; 70% is made from cane. Sugar cane is grown in the Southern US, Mexico, South America, Africa, Southeast Asia and the Northern parts of Australia. Beets tend to be grown in cooler climates, like Canada, the former Soviet Union, and Western Europe.
American sugar often comes from cane grown in either Florida or Hawaii. Northwestern Europe still tends to get most of its sugar from beets, and Irish sugar from beets is particularly favored.
AS FEATURED ON:
AS FEATURED ON:








Stalks of sugar cane.

Sugar cane field.

By: Luis Carlos Jiménez

Beets provide about 30% of the world's sugar supply.

Sugar cubes.

Donuts topped with confectioner's sugar.

A person sifting powdered sugar.

By: Anton Balazh

A globe showing the Caribbean, where a lot of sugar is grown.

By: Chad McDermott

Emperor Darius of Persia spread sugar cane throughout the Arabic world.

By: narinbg

Sugar cane is a popular crop in the Philippines.