How Do I Choose the Best Red Pepper Flakes?
Those who want to choose the best red pepper flakes should consider the quality of the original peppers, along with the techniques used to dry pepper flakes and how a specific kind of red pepper flakes will fit an intended use. Dried red pepper mixes are popular in many different kinds of recipes, as well as at pizzerias and other restaurants as a condiment for pizzas, sandwiches, or pasta dishes. Knowing a bit about the range of choices available will help shoppers choose the best red pepper flakes for using in cooking or as a condiment.
One of the first considerations for choosing red pepper flake mixes is related to the original peppers that were used to make the dried flakes. Some of the best pepper flakes will be made from organic red chili peppers and my often contain a blend of several different types of peppers, allowing the "heat" to be regulated more easily. Since organic label food is becoming a popular way of differentiating superior food products, this can be a critical part of choosing between various options. Some buyers may also prefer flakes made from greenhouse-grown or hydroponic peppers.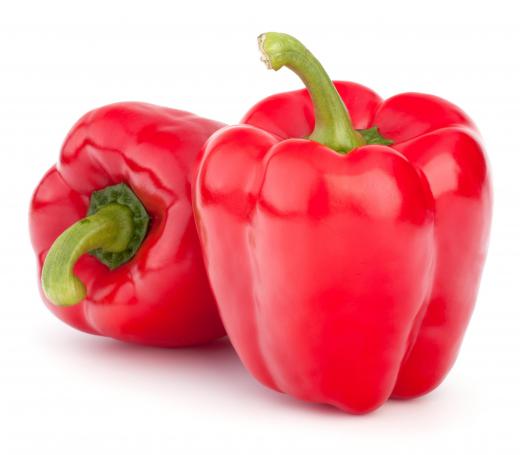 Another part of choosing the best pepper flakes is to consider the methods by which these food products are made. The best red pepper flakes will typically be dried naturally, without a lot of additional processing. Some mixes include more seeds than others, in order to provide a hotter, spicier result. There should not be any adulteration of pepper materials in the mix; the best choices are simple, natural combinations of dried peppers and seeds.
When evaluating different kinds of red pepper flakes, shoppers can look at what varieties of peppers are used in order to judge how hot the resulting product will be, and what it will taste like. Some mixes use specific pepper types like chipotle, ancho, or cayenne varieties, along with milder red bell peppers. The ratio of different pepper types will have a big effect on how the product tastes, and it may be necessary to try a few different brands to find the just the right blend.
In addition to all of these considerations for quality, buyers may also want to consider how this product is made for storage and use. Many of the best products will have built in shakers to allow cooks or other users to shake small amounts of the mix onto food or into recipes. Some products will also be shipped in special containers that allow for better storage, away from excessive light, heat or dampness.
AS FEATURED ON:
AS FEATURED ON:








By: Natika

Mild red bell peppers can be dried and used in some mixes of red pepper flakes.

By: ZIQUIU

Chipotle can be part of a mix of red pepper flakes.

By: Brent Hofacker

Naturally dried red pepper flakes are best.