How Do I Choose the Best Rice Vinegar?
Vinegars are essential cooking tools that are used in several types of dishes to help to enhance flavors and to change a food's consistency. Asian cooking often utilizes rice vinegar, which is a product that is derived from fermented white grains. It is important to bear in mind that this is not the same product as rice wine versions. The best vinegar that you choose ultimately depends on the type of dish you are cooking, and it is generally available in red, white, and black versions. Small bottles of various rice vinegars are a culinary mainstay if you cook several types of Asian meals on a regular basis, but you might consider buying a particular kind in bulk if you use it often.
Rice wine vinegar is one of the oldest tools in Chinese cooking, and it is derived from sugars that are turned into alcohol. True rice vinegar is slightly different in that the process involves converting the alcohol into acid with the help of bacteria. Choosing between the two depends on whether you want a sweeter kind of vinegar or a more acidic one. If you are looking to cook traditional Asian cuisine, you will likely need rice vinegar, and not brands that are labeled as "wine."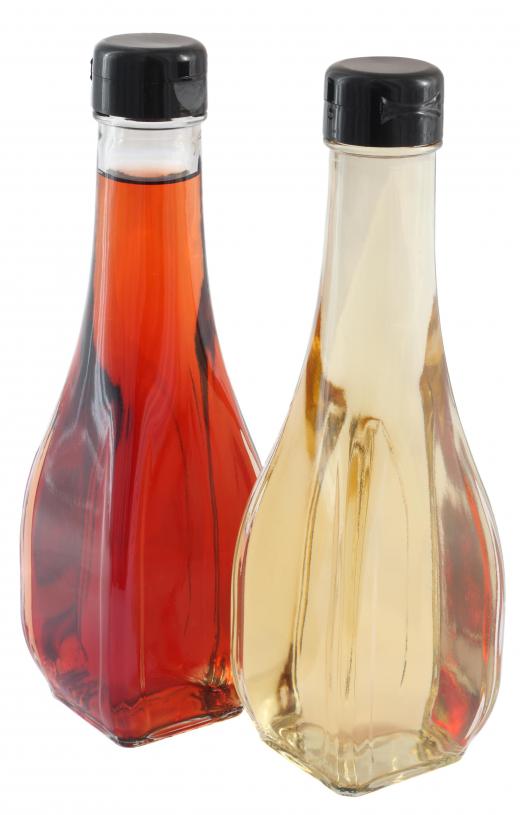 There are three primary types of rice vinegar — red, black, and white — which are mostly used in Chinese cooking. The red type offers a tart flavor, while black versions are stronger and slightly bitter. White vinegars are generally the sweetest and mildest of all, and are a good choice if you are new to Asian cooking. Some regions of Japan utilize yellow vinegar, which is made from a combination of rice and sake. Japanese vinegars have similarities to white versions fermented in China in terms of mildness of flavor.
Most Asian food stores carry rice vinegar, but some supermarket chains might also offer certain types. If you regularly cook both Chinese and Japanese meals, then you should consider keeping several types of vinegar on hand because they are often not interchangeable in different recipes. Rice vinegar is also sold in bulk online as well as in some stores; you should utilize this option in order to save money if you use a particular type often. Some experienced chefs prefer to control the sweetness and acidity of vinegar by making it from scratch, but this is often a long and arduous process that should be taken on with care.
AS FEATURED ON:
AS FEATURED ON:








By: GeoM

Red and white rice vinegar.

By: kazoka303030

White rice vinegars are generally the sweetest and mildest.