An herb is a plant whose leaves, seeds, or flowers are used for flavoring food or in medicine. Other uses of herbs include cosmetics, dyes, and perfumes. The name derives from the Latin herba, meaning "green crops." Dill is a plant (Anethum graveolens), that yields both a seed-like fruit referred to as dill seed or dill and leafy growth called dill weed. The plant is in the same family, Apiaceae, as anise, fennel, cilantro, caraway, and cumin.
History
The Greek physician Hippocrates, known for the Hippocratic Oath, recorded a recipe for a dill mouthwash. It is mentioned in Charlemagne's list of herbs, and he served tea using it.
Description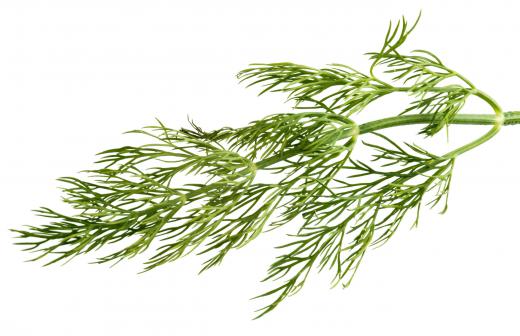 Like a number of the other herbs in its family, dill is a tall plant, often reaching a height of 3 feet (about 1 m), and topped with the characteristic feathery leaves. Some strains have been developed to be shorter, to resist bolting, or to maximize seed production. Flowers range from white to yellow.
Gardening
Dill is a sun-loving, hardy annual that is grown from seed. It will reseed itself if the seeds are not harvested. The plant has a taproot like coriander, and mature plants shouldn't be transplanted. Succession planting assures that dill weed is available all season, even as the earlier plantings bolt.
Food and Other Uses
Dill is well known as the prime flavoring ingredient in cucumber pickles and other pickled vegetables, but it is also popular for flavoring vinegars. It is an ingredient in many Scandinavian and German fish and seafood dishes and sauces, including gravlax, and is used in soups with a variety of origins, including borscht. Dill is used as a garnish in the Baltic states, in breads, and in dips and salad dressings, including those used for potato salad.
Preservation
The most popular way to preserve dill is by using it in pickles. The leaves can also be frozen for several months, a preferable method to drying it. To harvest the fruit, the dead flower heads can be gathered and shaken into a bag, or — to make sure seeds are not lost — the seed heads can first be wrapped in cheesecloth, netting, or pantyhose and the cloth used to collect the seeds. Seeds should be dried in a cool, dry place.
AS FEATURED ON:
AS FEATURED ON:








By: Viktor

The dill plant.

By: Natalya Korolevskaya

Cucumbers can be pickled with brine or vinegar and dill weed to make dill pickles.

By: Andrey Starostin

Dill seed.

By: cook_inspire

Dill is used in borscht.

By: PhotoEd

Dill is used in the making of gravlax, a Scandinavian smoked salmon.