How Do I Choose the Best Sauce for Chicken Wings?
To choose the best sauce for chicken wings, you should consider the kind of flavors you want on the wings and think about the sauce you coat them with and any dipping sauce you might want. In many recipes for chicken wings, the sauce that coats the wings can be swapped between many different types of sauces, allowing a single recipe to be used to produce many different types of wings. You should consider if you want a sauce for chicken wings that is hot or one that provides a different flavor, such as barbecue or honey mustard, as well as any dipping sauces you might prefer.
Sauce for chicken wings typically indicates the sauce that is used to coat chicken wings after they are otherwise cooked. Wings can be deep fried or baked in an oven, and different recipes can produce wings with a variety of textures and overall feel in the mouth as they are eaten. Once the wings are cooked, however, then they are typically placed in a bowl and tossed with one type of sauce or another. The sauce for chicken wings that you choose should match your culinary preferences in general, and provide the type of flavor you are looking for in particular for the wings you are serving.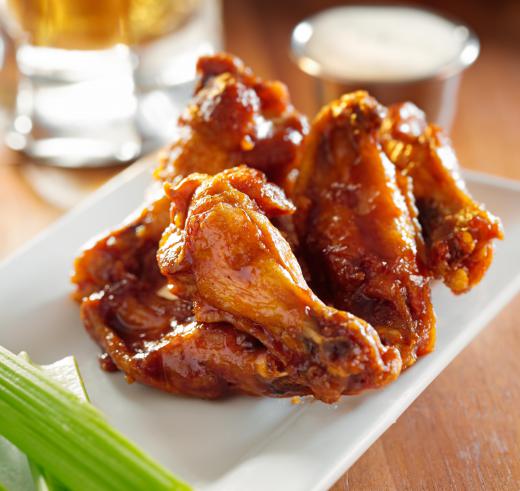 Hot sauce for chicken wings is, perhaps, the most common and traditional way in which to prepare wings and can be made quite easily. It typically consists of a cayenne hot sauce, a number of different types are commercially available and can be chosen based on your preferences, that is combined with melted butter. This sauce is then poured over chicken wings in a bowl and mixed or tossed to coat the wings, which are then allowed to drain on a rack or baked slightly to cook the sauce into them.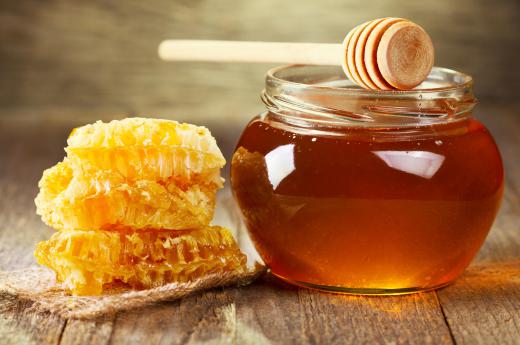 Other types of sauce for chicken wings are also quite common and you should choose the sauce that best suits your tastes. Barbecue sauce, both American and Asian-inspired sauces, can be used to coat wings and you can use your favorite store-bought sauce or make your own. Honey mustard is often used on wings and provides both sweetness and tang. This can even be combined with hot sauce to use sweetness to cut through heat on the wings.
You might also consider sauce for chicken wings that you can dip the wings into as you are eating them. For hot sauce, ranch or blue cheese dressings are commonly used to dip the wings into, which offset the heat and provide a creamy texture to accompany the wings. The same sauce used on the wings can also be provided for dipping, accommodating you or your guests who prefer more sauce on the wings.
AS FEATURED ON:
AS FEATURED ON:








By: Joshua Resnick

Hot sauce is commonly used with chicken wings.

By: Nitr

Honey and mustard are common ingredients in sauces that are served with chicken wings.