A baking sheet is a flat metal pan characteristically used in either the oven or the broiler. It is only a single layer unless it is an insulated pan, which is made of two sheets of aluminum with a layer or air sealed between them. While an insulated baking sheet is a good choice for softer baked goods, a dark single sheet will help to crisp items. Single sheets can be stacked double to imitate the effect of an insulated pan, if desired. Typically, they are greased or lined with parchment prior to use, although some items may be placed directly on the metal surface.
Widely known as a cookie sheet, and sometimes referred to simply as a metal sheet, a baking sheet is, in fact, the pan of choice for many kinds of drop cookies and rolled cookies. Types of cookies baked this way include many oft-made favorites including oatmeal cookies, Tollhouse cookies, sugar cookies, and butter cookies. Other types include biscotti, a type of molded log cookie, gingerbread men, rugelach, whoopee pies, and stained glass cookies.
Another popular use of a baking sheet is to toast or roast items that do not contain a lot of liquid that could run over the edge. Items that may be toasted include nuts, pumpkin seeds, and bread cubes oiled and seasoned to make croutons. Garlic bread can also be toasted this way. Roasting on a baking sheet works for squash, onions, peppers, and eggplant in the skin, and when carefully done, leaves the vegetables browned on the outside and tender inside.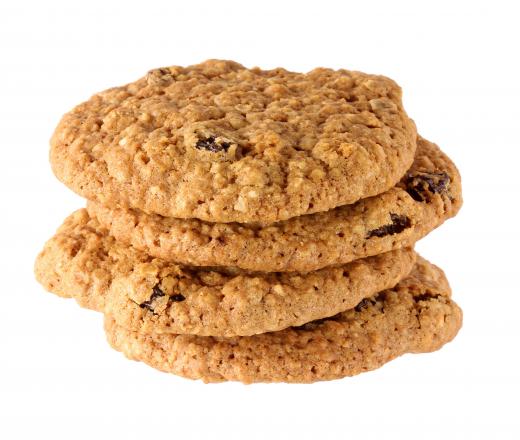 Some quick breads are baked on a baking sheet. Scones — which may be shaped as triangles, rounds, squares, or diamonds — are prepared in this way. So are biscuits, including baking powder biscuits. Popovers and muffins, on the other hand, are baked in specially prepared tins.
Turnovers from a variety of cultures may be baked on a baking sheet. This includes empanadas, which are Mexican or Spanish pastries; calzones, which are Italian turnovers; the turnovers from Crete called Skaltsounia; and Indian samosas. Dessert turnovers are baked this way as well. Other items that may cooked on this pan include pretzels, crackers, crabcakes, and pizza.
AS FEATURED ON:
AS FEATURED ON:








By: Artistic Endeavor

A baking sheet is a metal pan for baking cookies and other foods in the oven.

By: sassyphotos

Cookies are typically cooked on a baking sheet.

By: marilyn barbone

Croutons can be made at home using a baking sheet.

By: Gajus

A darker baking sheet will help to crisp items.

By: Francesco Italia

Pizza can be prepared on a baking sheet in an oven.