How Do I Choose the Best Sugar-Free Cereals?
When making decisions about purchasing sugar-free cereals, you should first consider any nutritional or medical reasons why you or a household family member should be eating a sugar-free cereal. Secondly, you should select a cereal that is tasty. You should also consider the overall nutrition profile of the cereal as well as its cost. It is extremely important that you read the nutritional and ingredient labeling on the packaging for sugar-free cereals so that you are aware of the inclusion of any sugar substitutes or undesirable ingredients. Reviewing nutrition labels is particularly important if you are following a low-calorie or low-carb diet, as sugar-free cereals may still be high in carbohydrate and calories.
Some people choose to eat sugar-free cereals because they simply want to cut down on the amount of sugar in their diet or because they simply do not care for sweet foods. In other cases, however, sugar-free cereals are mandated because of a significant medical issue or the need to lose weight. When selecting cereal for someone with specific dietary or medical needs, it becomes very important to read labels and to determine whether the manufacturer of the cereal is reputable. For example if you are purchasing cereal for someone with diabetes, it isn't enough to select a no-sugar-added cereal, as it still may contain sugars that naturally occur in some of its ingredients, such as dried fruit. If you are shopping for a low-carb diet, be aware that the absence of sugar does not make a product low-carb, as there still may be grains and other starches in the cereal.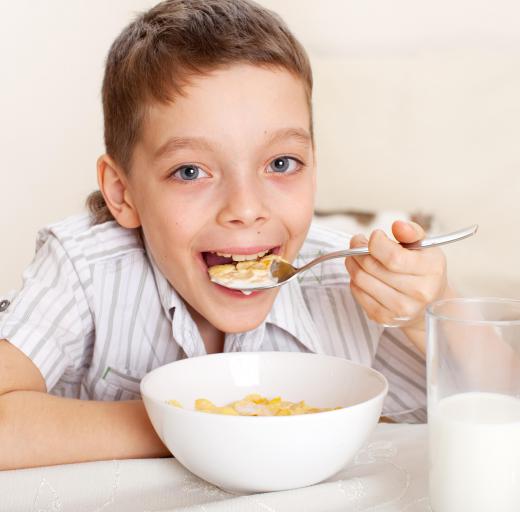 Of course, it's also important to choose cereal that is enjoyable to eat. Consider the preferences of your household numbers when selecting a cereal. You may wish to initially purchase a trial or small size of any sugar-free cereals that interest you before investing in a large quantity of cereal that may never get eaten. Sugar-free hot and cold cereals are available, so you may wish to buy both kinds to enjoy some variety.
While some sugar-free cereals are simply non-sweetened, some brands do contain artificial sweeteners. Some people find the taste of the sweeteners offensive, while others may have bad reactions to them. Check the ingredient label to identify any artificial sweeteners used to make a cereal and make your decision based on your preferences and your doctor's recommendations. Similarly, if you or a family member are sensitive to other food products, such as soy, dairy, or nuts, it's important to know if those products are used to make a cereal before you bring it home.
AS FEATURED ON:
AS FEATURED ON:








By: Tatyana Gladskih

Choosing a good sugar-free cereal can be especially beneficial for children.

By: librakv

A diet that is high in sugar raises an individual's chances of developing type 2 diabetes.