Cereal is a kind of grain used for making human and animal food. All are forms of edible grasses grown around the world in a variety of climates and soils. The term comes from the Roman Goddess Ceres, who was aligned with the yearly harvest, but it is often more closely associated with breakfast cereals such as cornflakes and puffed rice. These grains are processed into a wide variety of products including breads, cakes, desserts, and other meals.
All cereals are wholegrain and are divided into large-seed cereals, grown in fields or in water paddies, and small-grain millets. Whole grains include maize/corn, wheat, barley, and oats. These grains are divided into three parts. The first part is the bran, which is an outer layer that contains fiber and vitamins. The second layer is the starch-filled center, the endosperm, and the final layer is the small germ, which is filled with vitamin E, phosphorus, and magnesium.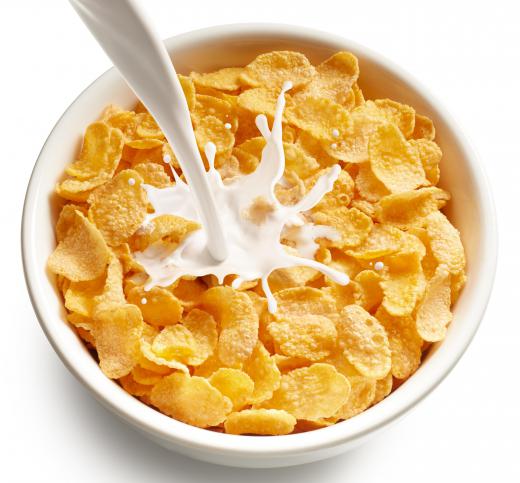 In old and Middle English, the word for all crops was "corn." This word has since come to be used in America as a term for sweet corn, or maize. Maize usually is consumed without milling, so it retains much of its nutrients and remains high in dietary fiber. It usually is turned into food products such as pop corn, corn on the cob, cornflakes, and puffed maize. It is a staple food of many countries, including those in Latin America and North America.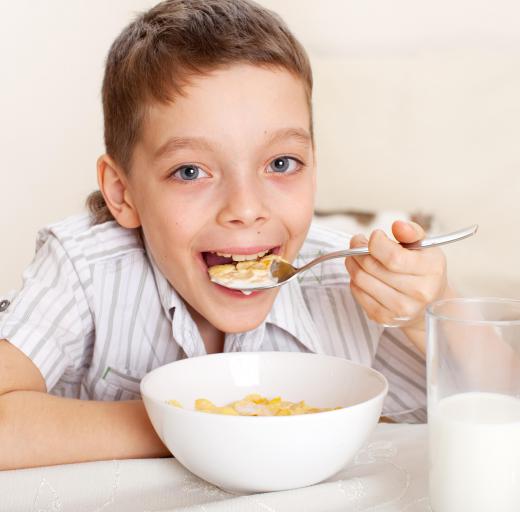 Wheat, oats, and barley were the predominant cereals in Europe before the introduction of rice and corn from Asia and America, respectively. Wheat usually is milled and turned into bread. Oats can be combined with hot milk to make porridges and oatmeal, which are often combined with sugar or honey for extra flavor. Barley grows in diverse climates and is used for a variety of foods, and in Britain, it is combined with fruit squashes to make a healthy drink.
Rice is cultivated throughout Asia and is the predominant cereal of countries such as Japan, China, Korea and Thailand. It is a simple staple that is cooked in a variety of ways, such as the fried bibimbap of Korea and bowls of sticky boiled rice in Japan that are eaten with miso soup and fried tonkatsu. Rice also is turned into bread and cakes or turned into desserts such as rice pudding. It is grown all over the world in a variety of climates, and its nutritional value depends on the quality of soil in which it is grown.
Millets are a small seed cereal grown mostly in South Asia. Often used for fodder, many are also used to make human food products. Ragi is good for fiber and cellulose, and it is used in breads, pastes and ragi balls. Bajra is a millet similar to wheat in many ways, and it is used for rotis.
Whole grains are considered a healthy and vital element of a daily diet within many cultures. Cereals are high in carbohydrates and form one of the best providers of energy. They also contain elements such as magnesium, phosphorus, and iron. The grains also are recommended as agents of digestion. They do not, however, provide enough nutrients to sustain life and must be combined with other foods to avoid malnutrition and diseases.
AS FEATURED ON:
AS FEATURED ON:








By: Okea

The most common form of cereal is corn flakes or puffed rice.

By: Tatyana Gladskih

The term cereal is closely associated with breakfast cereal, a common meal to consume early in the day.

Barley can be ground up and combined with other ingredients to produce grain-based foods like cereal.

By: schankz

Barley, is a common type of cereal grain.

By: atoss

Many cereals are derivatives of corn meal, or maize (sweet corn).

By: robynmac

Oatmeal is made from oats, a type of cereal grain.